Latest Claim: Amy Winehouse's Drink Spiked With Ecstasy
Latest Claim: Amy Winehouse's Drink Spiked With Ecstasy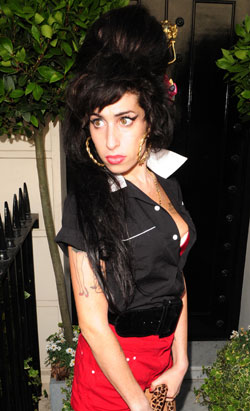 According to The Sun, Amy Winehouse's dad Mitch is reportedly convinced a "friend" spiked the singer's drink with ecstasy, which led to fits she suffered on Monday evening that saw her rushed to hospital.
Although it was originally thought Amy's convulsions were a reaction to the medication she was taking to help her quit drugs, it has now emerged that Mitch is reportedly certain that her drink had been spiked.
The singer's dad reportedly called the police on Monday to register his suspicions.
Mitch has also apparently warned Amy he will find the "friend" responsible.
After Amy was discharged yesterday, a source said:
"Mitch is furious. He's certain someone put E in Amy's drink — and he's determined to get to the bottom of it.

"He is convinced that one of her hangers-on was responsible and he's waiting for a toxicology report to show what caused her to fit.

"If his suspicions are proved right, he wants someone to be punished. He is seriously unhappy about Amy's flat being a stop-over for randoms and wants an end to it."
I guess we all knew this incident was going to get worse before it got better, but this latest turn of events is still concerning. Let's hope Amy now surrounds herself with those who have her best interests at heart.
UPDATE: According to The Mirror, Amy had allegedly been playing a drinking game from 5pm on Monday, drinking dozens of shots of rum. After reportedly taking her 11 prescription pills she then collapsed and was taken to hospital.