Les Miserables Cast List
Casting Update: Who's in For Les Misérables
The casting for upcoming musical Les Misérables is shaping right up, with most of the major parts now filled. The most recent news is that stage actress Samantha Barks will be taking on the role of Eponine, beating out previously rumored hopefuls like Taylor Swift and Lea Michele. The Tom Hooper-directed musical is one of the movies we're most looking forward to this year, so we've been eagerly eating up all the casting news. If you're also a fan of the beloved stage musical set during the 19th century, check out who's been cast in the film so far.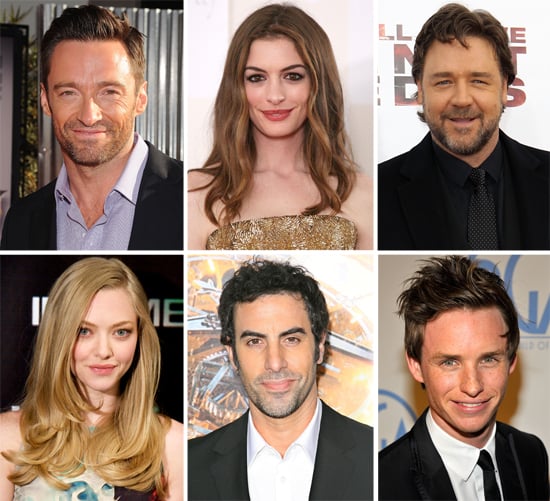 Hugh Jackman will star as protagonist Jean Valjean, a former prisoner who adopts orphan Cosette and turns his life around as the mayor of a small town.
Anne Hathaway will play Fantine, a woman forced to become a prostitute to support her young daughter, Cosette. She dies early on and requests that Jean Valjean raise her daughter in her absence.
Russell Crowe is attached to play Inspector Javert, Valjean's nemesis who becomes obsessed with bringing Valjean to

justice

.
Amanda Seyfried will play Cosette, Jean Valjean's adopted daughter, who falls for Marius.

Sacha

Baron Cohen has the role of villain Monsieur Thenardier, a man who forces Cosette to work when she's a small child.
Eddie Redmayne will play Marius, a young man involved in the revolution, and the object of affection for both Cosette and Eponine.
The role of Eponine, the woman who is also in love with Marius, has gone to an unknown: Samantha Barks, a British stage actress who has played the part onstage before.
Aaron Tveit has a supporting role as Enjolras, a friend of Marius's who is also involved in a student-led revolution.