Lindsay Lohan Interview on Oprah's Next Chapter
Here's What You Missed From Lindsay Lohan's Oprah Interview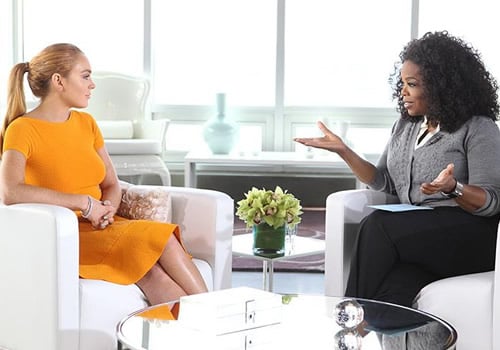 Lindsay Lohan sat down with Oprah Winfrey for Sunday's episode of Oprah's Next Chapter, and in the highly anticipated interview, she opened up about everything from her "chaotic family" to her struggles with drugs and alcohol. The actress, who has seen multiple arrests, court dates, and rehab stints over the years, completed her stay at a Malibu facility earlier this month and seems to be making a serious effort to get her life and career back on track. Lindsay's interview gave us a new look at the former child star, and in case you missed it, here are eight of the most revealing quotes from her Oprah's Next Chapter appearance:
On her first DUI and going to jail: "You would think in that situation, someone would be like, 'Holy sh*t, I need to check myself.' It's the definition of insanity, doing the same thing over and over again. At that point, I somewhere inside knew and kind of wanted to go to jail, just to find some peace and have no choice but to just sit and be. I don't think the embarrassment was as prominent as the shame and the guilt."
On her most recent rehab stint: "I think I just hit a wall. I said [to my attorney, Shawn Holley], 'I think the best option is for me to go to treatment, and just take these three months to really just take care of myself, and find myself.'"
On what rehab means to her: "I think in the past I've never really surrendered to the fact I just need to shut up and listen. In this [most recent] case, I wasn't fighting at all; I just let go. I came into it really willing, and really craving more spirituality."
On her addiction and drug of choice: "Alcohol. It was a gateway to other things for me. I've done [cocaine] like 10-15 times. I think that's why I did it, because it allowed me to drink more. I snorted it; I've never injected anything other than getting B12 shots."
For more from Lindsay's exclusive tell-all with Oprah, just keep reading.
On her upbringing: "A lot of stuff went on when I was young with my family, and I grew up in a very chaotic home. It's something that a lot of people go through and, unfortunately, I waited too long to face it. Nobody's perfect; I love my parents, but I'm not going to say that there aren't certain situations I would have preferred to be handled differently — and I don't blame anyone for my mistakes. I did that, and I'm not proud of it."
On her lack of guidance: "When I moved to LA after filming Mean Girls, I was 17 or 18. I was around people so I wasn't lonely, and I didn't pay close enough attention to people being around for the wrong reasons. I was making too much. I wasted so much money; I was living at a hotel, and I had an apartment. I wasn't really being guided. I didn't think about it, and I didn't listen to my family when they told me, 'Come back to New York.'"
On her career: "I have to regain the trust of people in my career. I'm my own worst enemy, and I know that. I have such a desire to want to keep this feeling and stay this way, and I'm willing to do whatever it takes. I really want to be on set. That feeds me. Staying present and clear-headed and focused is the most important thing for me."
On what she's learned: "Just learning how to ground myself; I don't need to go to outside things or places or substances to feel anything. It's all here. I've been blessed and so lucky to have a gift to share with other people, and for so long I've kept that locked down by creating this whirlwind of garbage around myself. I've always known things about myself; I've just chosen to not recognize them and not act on them. I've always been aware of my faults . . . I've lived so many lives in one lifetime at this point, and it's not interesting to me anymore."