Lipstick Jungle Recap, Series 1, Episode 1 "Pilot"
Pop Watch: Lipstick Jungle, Episode 1, "Pilot"
Last night the pilot of Lipstick Jungle aired on Living — that glossy New York setting felt oh so familiar but the faces (Brooke Shields, Kim Raver, Lindsay Price) were different. The series kicked off at New York fashion week, where — mostly — I wasn't really feeling Victory Ford's designs. And neither were the press. Ouch.

I've already shared a few of my thoughts on the first episode, but as I watched the show again, a few more things struck me. Do jump in with your own thoughts in the comments!
So, the series opened with Wendy dropping her bag on the floor, which instantly took me back to Carrie and Big (last reference, I promise, and so unfair on any other show), but Wendy's bag contents were a little different to Carrie's, with kids' toys and a script falling out of Wendy's designer tote.
I found the friendships in Lipstick believable and I liked seeing all sides to their relationship — talking work, shopping and being there in a crisis. Talking tough and shopping are not mutually exclusive, so this made it easier for me to believe that these women actually like each other.
I can't say I've ever had much of a thought out opinion on Brooke Shields, but I do like her as Wendy and I found the character sympathetic. She's definitely not the ruthless, backbiting woman I thought she might be. Instead she's someone who "hugs and fires." It's nice to see a character who's both powerful and motherly, although for TV conflict's sake she can't have it all.
To see more of my thoughts on last night's first episode, just read more.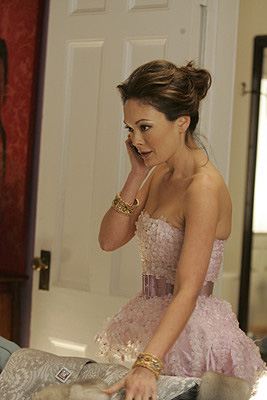 I also liked Kim Raver's performance as Nico Reilly, but I had a couple of problems with her story, beginning with the "Do you know how old I am?" line. Really? If you're being flirted with / kissed passionately by a hot 20-something, are you going to ask that? Hmm.
Also, she's stuck in a loveless / sexless marriage, and the series certainly wasted no time jumping right into her first-ever affair. I get that the show's trying to make an impact, but I can't help thinking it might have been a little better to have an episode of flirtations first.
But then, Nico's younger man (played by Robert Buckley)? Cute. I can kinda see why she can't keep her hands off him.
As I said in my preview, I'm not loving Victory yet. Every moment that called for emotion felt a little soapy. But, as a postive, she does gets to date 80s heartthrob Andrew McCarthy.
She also gets my vote for worst outfit: that shimmery, 80s-prom-meets-baby-ballet-tutu getup. Is she really in fashion? Hmm.
We're supposed to be annoyed at Joe Bennett not doing anything for himself — including opening his champagne — but I didn't understand why Victory was so confused when he sent a car for her? Wouldn't she get picked up in cars all the time?
Nico's husband is really so unobservant that he didn't notice the phone number written on her leg in permanent pen?
Who knew Leonardo DiCaprio could cause so much stress? These stars and their flip-flopping... tsk...
But Wendy played total hardball, and I was nervous for her. Clinching Leo in a movie deal, and making a school meeting. Nice.
So, generally I enjoyed this first episode. It's always hard to judge a series on its pilot as really it's all about scene setting and getting to know characters, though this one fitted in a fair bit of story too. I'm definitely looking forward to seeing where it all goes.
What did you think? Will you give it another episode to make an impression (if it hasn't yet)? And which character's story was the most interesting to you?