MTV VMAs 2008 Promo Spots Featuring Russell Brand and Britney Spears
First Glance: Russell & Britney's VMA Promos!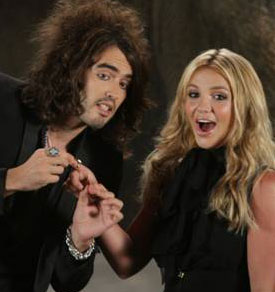 So here they are, the much talked about MTV Video Music Awards promo spots featuring Britney Spears and our very own Russell Brand... or is it Brown?
I'm loving that in the first one they're addressing that some people in the US don't really know who Russell is, that Britney is so together and fabulous (yay!), and the elephant in the room!
Who knew that Russell would be the pop princess's saviour? She looks so happy and relaxed! Let me know what you think of them too!
Photo Credit: MTV