Mad Men Season Five Preview
Mad Men Season 5 Will Include a Time Jump, Big Surprises, and More
Mad Men will finally return on March 25 after 17 months of hiatus, but the cast and crew of the AMC series have been incredibly tight-lipped about what's to come for Sterling Cooper Draper Pryce. That is, until now. In the latest issue of Entertainment Weekly, we finally get some details about what we can expect from Don's engagement, Joan's pregnancy, and the rest of the cast. Here are more details about Mad Men's fifth season: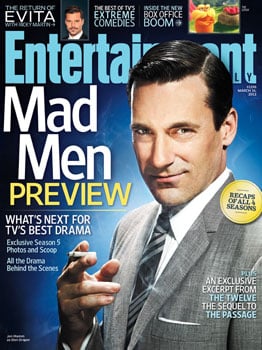 Elisabeth Moss

on season five: "I was completely, completely surprised by season five. For a few of the characters that have big things happen to them this year — big surprises and changes — the audience is going to look back and go, 'He said that in episode one! Or they hinted at that in episode three!' It's a brilliant writing season."

Jon Hamm

on what's in store: "This season is about getting everything back on track. The company is where we left it. It's in a bit of disarray. We get to see more of everybody doing their job. Peggy, Pete, Roger, Lane, Harry, Ken — everybody's reinvigorated."
John Slattery on how Mad Men has evolved: "It's funnier. It's sadder. It's just amazing. Maybe it's because you know these people a little better than you did before. But not as well as you think."
Creator Matthew Weiner on the time jump between seasons: "I want people to feel like they're going to visit their best friend, and they open the door and everything's been going on without them. The story is on page 30 when they open the door, so they'll have to catch up."