March 2009 Cover of Elle UK Magazine "The Fashion Issue" Featuring Gwyneth Paltrow Plus Interview Excerpts
Gwyneth Talks About Image, Her Appearance and Chris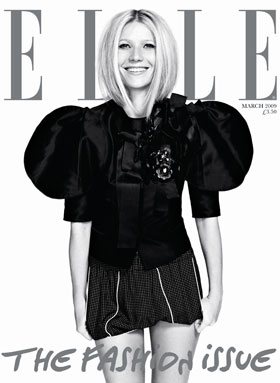 Gwyneth Paltrow takes centre stage on the cover of March's issue of Elle magazine. She sat down with the magazine to talk fashion, appearance and image as well as opening up a little about her lifestyle and her husband Chris Martin.
Here are some excerpts from her interview:

On her image: "I'm probably less square than people think. I wish smoking didn't kill you. And you know what I had the other day which I loved? A French Martini. I had one too many. The last cigarette I smoked was the day I found out I was pregnant with Apple. I'm so pissed off it gives you cancer. But then, once you have children, if you've witnessed a death like I did with my father, you just can't. But I've decided that when I'm about 70 I'm going to start smoking again. Why not? I can't wait!"
On Chris writing songs to help her grieve for her father: "It's so hard for me to listen to some of those songs... I'm amazed he stuck with me [at the time her dad died], because I was a wreck. I can't believe that he did."

To read more from Gwyneth on not attending red carpet events with Chris, and her thoughts on her appearance and fashion, just read more.



On appearing with her hubby in public: "It doesn't behoove us to be a public couple... He certainly doesn't want to be that. We've never ever walked down a red carpet together, we never will. If people think that that means we're not together, then – ha ha ha! – so be it."
On her appearance: "People don't realise, sometimes you wear a dress because your friend made it. I just got out of sweatpants, out of mummy mode. I love fashion, but when you're breastfeeding and you're a stone-and-a-half overweight, it's demoralising to try to wear good clothes."
On getting her trademark long blonde hair cut shorter: "My hairstylist, an old friend, was brushing my hair and I was like, 'F*ck this hair! Cut my hair."
The full interview is in the March issue of Elle magazine, out now!