Matt Damon on His Nickname "Red Alert" at Contagion Press Day
Matt Damon Explains Why Luciana Calls Him "Red Alert" During His Contagion Press Day
Matt Damon stars in Steven Soderbergh's Contagion, which is out in the US on Sept. 9. He was at a press conference in LA last weekend chatting about what it was like to work with both Steven and writer Scott Z. Burns. Matt also touched on his personal life, revealing a funny nickname that he earned from wife Luciana because of his overprotective tendencies. The actor also spoke about getting advice for one particularly emotional scene and touched on the shaved head he's sporting to shoot Elysium up in Canada.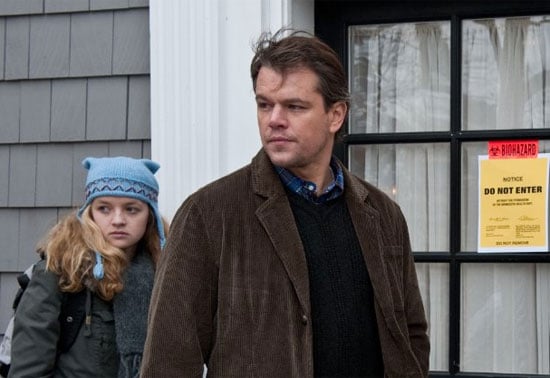 On his real-life crisis mode: "With kids I'm probably more protective than I've ever been, now that I have children. I mean, my wife's nickname for me is 'Red Alert.' Sometimes I just check to see if the kids are breathing, but, no I think there's the tendency to be overprotective without trying to be a helicopter parent."
On shaving his head for Elysium: [looking at Steven Soderbergh's shaved head] "Inspiration can strike at any time . . . It's for a movie, I'm doing a movie with Neill Blomkamp who directed District 9, and this is what the guy looks like. I did shave my head once when I did The Brothers Grimm, I had a wig . . . it was easier to get the wig on instead of lacquering my hair down, instead I just shaved my head, so I walked around in my regular life like this. I love it — I see why these guys rock it! Great in the summertime, easy getting out of the shower."
On playing action guys vs. regular guys: "[With sarcasm] Obviously the action guys come way more naturally. If the director's good and if the script is good, it all comes pretty naturally and if those things aren't in place then it's impossible no matter what the role is."
On what it's like working with Steven: "Well, I thought it was a lot that was kind of easy to relate to — it was just kind of on the page. And working with Steven is very different than working with anybody else. To give you an example of a day — we'd go and we'd shoot, we'd talk about what we were going to do, we'd figure it out, and execute the plan and then we'd go back to the hotel and go to the bar. And in the back room of a bar, they'd deliver the footage, and Steven and Scott and I, we'd just kind of sit there and talk while Steven opened up his laptop. We'd just kind of sit and talk while Steven sat in the corner for 45 minutes or an hour, and in the end he'd take his headphones off and turn the computer around, and he'd show us what we shot. That day. Cut! So, when you're working that way, it's kind of like making a movie in your backyard with your friends. The body is out on the operating table and wide open, and you just kind of talk about, 'Alright well, what else do we need?'"
To read what Matt said about first reading the script, his own levels of disaster preparedness, filming one particularly emotional scene, and Steven's supposed retirement, just read more.
On his reaction to the script: "We were getting ready to do something else, another project that we're still going to do, and Steven called and said 'I've got this other thing, and we really got to make it now 'cause it's really timely' and he said 'I think it's the best thing Scott's written in quite a bit.' Obviously, I think a lot of Scott, so he sent it over to me with a note that said, 'Read this and then wash your hands.' . . . [I thought] I really want to be in this movie. It's just a terrific, riveting, really fast, and really exciting and really horrifying, but it managed to be really touching too."
On his disaster preparedness: "After the Northridge quake [in LA], I put the flashlight by my bed for like two weeks and then forgot about it."
On a particularly emotional scene: "One of my favorites scenes that we did was this scene where I find out that my wife is dead. I went to Steven and said, 'Look, I don't know what to do, you know, how do you do this scene? It's five minutes into the movie, we're not invested in me or her, no one cares.' . . . We had a guy there . . . this doctor who delivers this news, and we asked him for certain trends: 'You know, what happens?' He said, 'Yeah, sometimes people fall apart, but there is this other reaction that we get just as much.' And I said, 'What is it?' And he said, 'Well, it depends on what kind of death it is. Is it the kind of death where you're not expecting someone to be dead?' And we said 'That exactly!' And he goes, 'Oh, well what you get a lot is just absolutely [nothing], it's just too much.' . . . That's a reaction people have, they literally don't [comprehend]. So working with these guys, I get up in the morning and I'm freaking out about how the hell I'm going to do this scene, and I end up going to work and getting this scene that's really interesting, and I've never seen it done that way."
On rumors Steven's retiring:
Matt: "I said that!"
Steven: "Well, the good news is we have the man who started all of this."
Matt: "I'm not going to comment on that!"
Steven: "He's got total recall when he's drunk . . . which is really alarming."
Matt: "Do you tell me things and expect that I won't remember?"
Steven: "Yes! Anyway, Matt started that."