Matt Damon Talks Working Relationship With Ben Affleck at Adjustment Bureau Junket With Emily Blunt
Matt Shares About His Working Relationship With Ben and Onscreen Romance With Costar Emily
Matt Damon and Emily Blunt stuck together at a press conference for their film The Adjustment Bureau recently in NYC — check out Buzz's review of the film hitting theaters today. The duo, who are an on-screen couple in the movie, spoke about their own real live loves before the assembled press, and Matt even touched on his friendship with longtime BFF Ben Affleck. Matt and Emily, who had the reporters cracking up, also shared about how embarrassing it was to shoot in front of fans at iconic landmarks all over NYC. Here's more: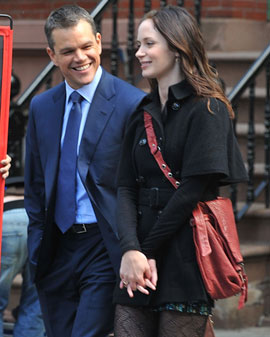 In the film, Matt, your character goes to the end of the world for love. What's the craziest things you've done for love?
Matt Damon: I've been asked that question before, but I don't think I've ever done anything too out there.
Really?
MD: You build your life around someone, that's pretty crazy. But it's more incrementally. There's no moment where I'm like Tom Cruise in Born in the Fourth of July running down the street in the rain . . . any minute I'm not working I go home. But we have a two-week rule so there's no job I can take — like when I did True Grit I asked Joel and Ethan to board the movie so that I was never away from home for more than a week . . . I just took this big movie in LA, so we're all there together. It's a pretty mundane life but we don't allow ourselves to be apart so we don't really need those dramatic moments.
You guys had the task of making a love story seem natural in a sort of sci-fi film. How did you manage that?
EB: That was the tricky part for me, that was one of the questions I had tonally about what the movie was. You know, like what were we doing and I think George encouraged us and we just decided to submarine everything and be very naturalistic . . . and not that Matrix-esque flying around on wires doing crazy stuff. They are pretty accessible sci-fi characters, I guess. They wear hats and they go through doors, there is a simplicity of it that shouldn't require any sort of declamatory performance. I always feel safer doing something natural. I think that it works for the movie, I think it lends itself to the relationship. You have to really invest in the relationship and make that relationship authentic. We had a lot of fun with our scenes because we wanted to find the right kind of chemistry for the characters in order for you guys to root for them and want them to be together.
MD: The tone stuff we weren't in charge of. That was the director's job. For us we were like, "OK, this is a love story with this other whole element in it. What we can control is the relationship between us." So we just worked on the scenes, and re-writing the scenes to kind of feel right . . . I think we just had a similar sense of humor, so that kind of helped.
To read what Matt says about his relationship with Ben Affleck, just read more.
There is a cool gimmick in the film where you can open doors and be in a new location. How was it shooting in locations that were so iconic in NYC like the Statue of Liberty?
EB: I was like a kid. It was so exciting to be able to shoot at the Statue of Liberty. The downfall is that is that you have 400 random strangers watching you do a very emotional scene, which is pretty embarrassing.
MD: We did that shoot at the foot of the statue of liberty, and obviously you can't shut down the Statue of Liberty. So there were a bunch of people who were going to see the Statue of Liberty who were like, "Oh hey, a movie's getting filmed!" So we're yelling at each other like, "I Love You!' and there'd be a pause and then everyone would clap.
EB: There was one really bad moment where we'd managed to get it together — we'd been laughing because it was so mortifying, the whole thing — you managed to get it together, you were really in it, then some d*ckhead goes, "MATT DAMON!" And he looked at me and he went, "This is the worst day of my life."
Matt, you're known for working closely with your friend Ben Affleck. When it comes to the movies, how much of a benefit is it to have people in the industry helping you?
MD: If I have a cut of a movie I'm in, I always show my friends. I'm always showing my wife, I show Ben. I saw probably six different versions of The Town as he was working on it. It's always good to have another set of eyes on something. On a movie set you can always see a lot of time being wasted on diplomacy, because people don't want to hurt people's feelings. It's always so much easier if it's implicitly understood that there's a deep respect for the other person so then I can tell you that's a f*cking terrible idea. And you can just move on! Particularly when you're writing there are times when you get so excited, and you're like, "And this guys going to come in the room and he's gonna . . . !" And your writing partner is like, "That is terrible." And you can just abandon it right away. It just saves so much time versus two hours saying. "I wonder if that's really what we want to say . . ." It's just a waste of time, and the quicker you can cut to the chase — the idea is that the allegiance is to the great idea, it's not to one person or any one agenda. It's just to the idea.