Matt Damon We Bought a Zoo Interview on His Daughters
Matt Damon Tells Us Which of His We Bought a Zoo Costars Won His Daughters' Hearts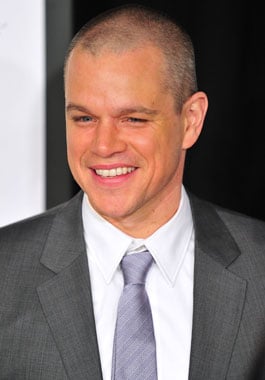 Matt Damon plays a single dad who takes a big leap when he purchases a run-down wildlife park in the upcoming We Bought a Zoo. I spoke with the actor at the NYC press day for the movie over the weekend, where he talked about acting alongside animals and having his daughters along on the set. Check out what Matt had to say about which of his furry costars his kids were "enamored" with and stay tuned this week to watch our full interview with him!
PopSugar: You have a lot of one-on-one interactions with the animals in this movie, and I can't imagine they always cooperated when the cameras were rolling. Was there a particularly memorable time when things went a little wrong?
Matt Damon: You know, I said to my wife when we took the job, I said, 'This thing's going to go like a month over. There's no way.' There's animals, there are children — and we finished right on time. I think Cameron was really clear with them about what we needed from the animals, and then they were really clear with him about what we could and couldn't do, and they all made a really good plan and it worked kind of exactly...I mean, if we did the movie again, it might go a month over, but it just really worked out for us.
Pop: Did your daughters get to come by the set and interact with the animals?
MD: Oh, constantly. Yeah, they loved it.
Pop: Are they big pet people?
MD: Yeah, I mean, they were particularly enamored with Crystal, the capuchin monkey. I have a lot of pictures of them with Crystal on their shoulder — which took them a while, to have the courage to let Crystal get on their shoulder. Crystal's, like, their size, so...[laughs]