Miley Cyrus Flashes Her Chest in Christmas Photo
Miley's Risqué Christmas Photo: Too Much or 'Tis the Season?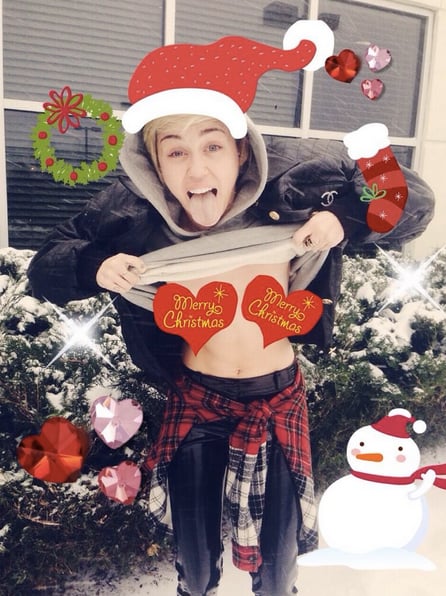 Just when you thought you've seen Miley Cyrus do it all, the singer has surprised us once again — not with dirty dancing during a performance, but rather a holiday photo she tweeted on Saturday. The image shows Miley holding her shirt up, flashing her chest, and sticking her tongue out while standing in the snow. She got even more playful with the graphics she added to the photo, covering her nipples with two hearts that read, "Merry Christmas." In the Twitter caption, Miley thanked New York "for being one of the few states to @freethenipple." The holiday theme has been popping up in the singer's performances lately. Most recently, the singer twerked her way onto the naughty list when she got up close and personal with Santa at the Z100 Jingle Ball in NYC on Friday night.
Tell us — has Miley crossed a line with her holiday shenanigans?