Miley Cyrus as Lil' Kim For Halloween
Miley Pays Homage to Another Shocking VMAs Moment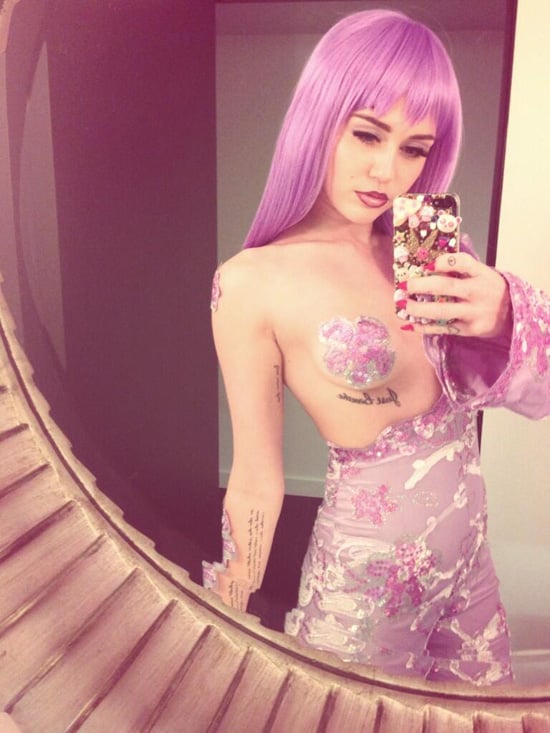 While some fans were hoping that Miley Cyrus's long-hair tease earlier this week meant that she may have been dressing up as Hannah Montana for Halloween, it turns out the pop star decided to go for a different (and, naturally, skin-baring) costume. Miley Cyrus debuted her Lil' Kim costume on Twitter last night while celebrating the holiday early with a group of friends. She went for Lil' Kim's infamous 1999 MTV VMAs outfit, which featured a purple wig and an exposed breast that was covered up by a sparkly pasty. It's fitting that Miley would choose to dress up as a star who made headlines with her VMA ensemble as the former Disney star has inspired thousands of Halloween costumes of her own for her VMA performance earlier this year. Interestingly enough, Miley's friend Cheyne Thomas briefly dressed up as VMA Miley for Halloween, although he later changed into a Frankenstein costume to twerk with his pal at their party.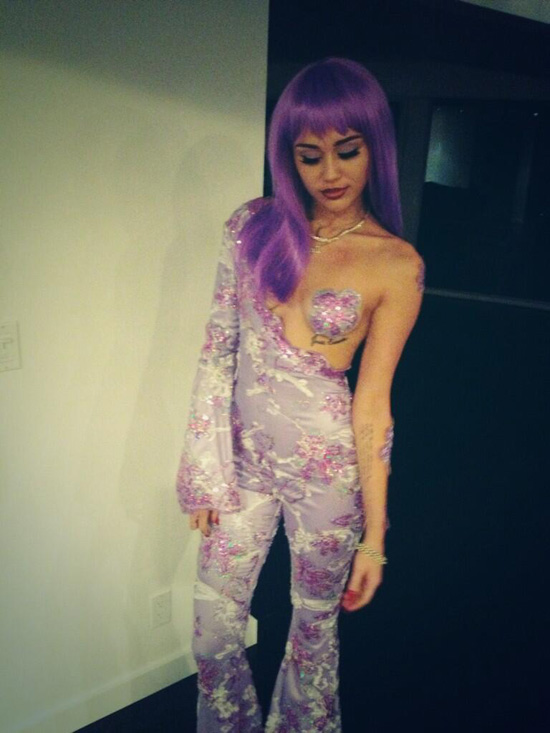 Lil' Kim tweeted her approval of Miley's costume today, writing, "Yasssssss my baby." Miley and Kim have interacted before as the young singer was on hand to film a music video with Kim and rapper Tiffany Foxx for Tiffany's song, "Twisted," earlier this year.
While Miley's Lil' Kim costume may be tame compared to some of her own onstage outfits, she has been having some cheeky NSFW fun this Halloween season. On Tuesday, she tweeted a photo of her raunchy jack-o'-lanterns, which included pictures of different sex acts and a marijuana leaf. Miley aptly named the pumpkins "pornkins."