Miley Cyrus Weighs In on Nicki Minaj's VMAs Comments, Calls Her "Not Too Kind"
Miley Cyrus Weighs In on Nicki Minaj's VMAs Comments, Calls Her "Not Too Kind"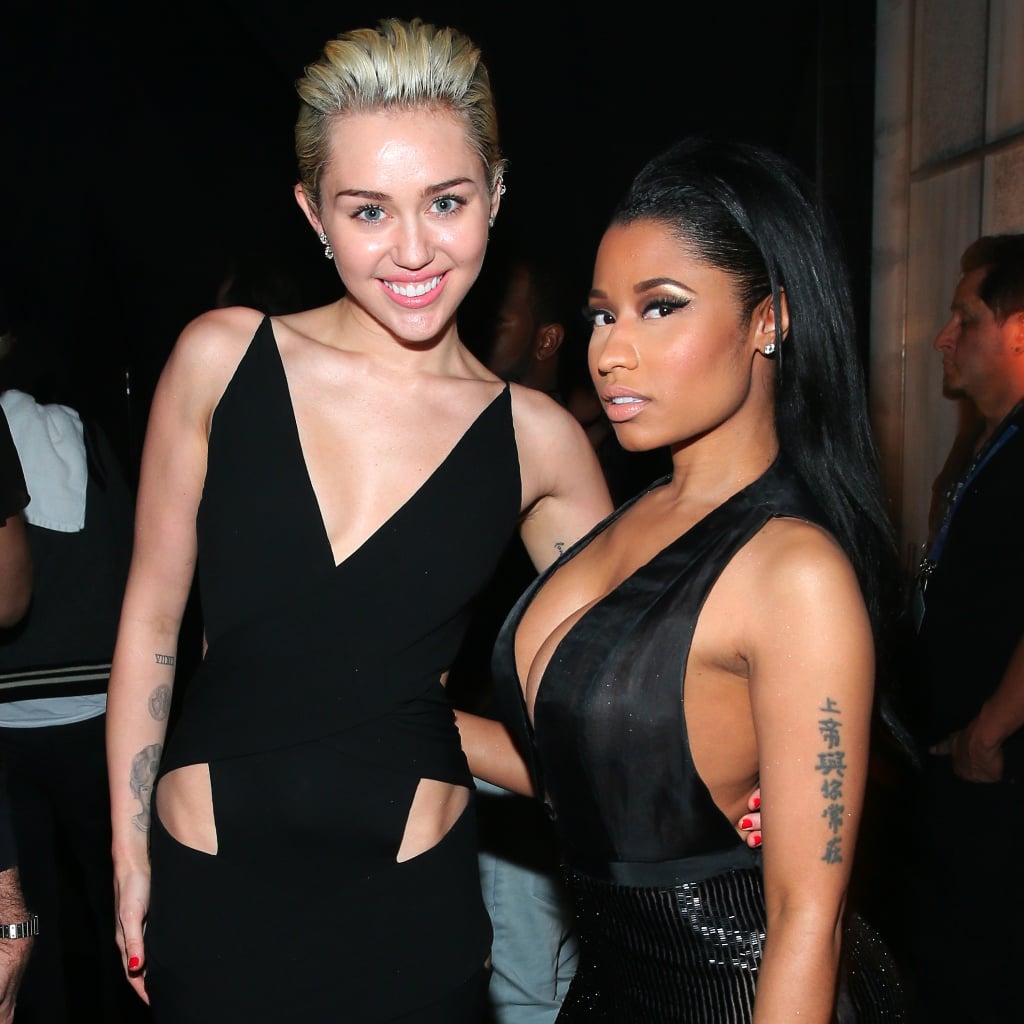 Miley Cyrus is set to host the MTV VMAs this Sunday, and she opened up about her plans for the gig in a New York Times profile that was released on Thursday. Along with reflecting on her favourite VMAs memories (including that now-infamous performance with Robin Thicke in 2013), Miley also touched on the recent controversy surrounding the video of the year category, specifically the comments Nicki Minaj made about her "Anaconda" clip not being nominated.
Though Nicki Minaj didn't mention any other musicians by name in her Twitter rant, she did call out issues within the music industry, saying, "If your video celebrates women with very slim bodies, you will be nominated for vid of the year." Many people figured that Nicki was alluding to Taylor Swift and Miley Cyrus, and Taylor jumped in to defend herself that day, replying, "I've done nothing but love & support you. It's unlike you to pit women against each other. Maybe one of the men took your slot." The back and forth drew responses from a few other celebrities and soon ended with a public apology from Taylor. While Miley didn't share her opinions on the short-lived feud at the time, she finally weighed in on Nicki's comments, just days before the three women will likely meet at the VMAs. Keep reading to see Miley's response.
On Nicki's initial tweets about not being nominated for video of the year: "I didn't really get into it. I know there was some beef. I don't really know. There's a way to talk to people. . . . She was saying that everyone was white and blonde that got nominated, I heard? And then Taylor Swift butted in."
On Nicki alluding to "Wrecking Ball" in her statements, saying that "when a naked white girl breaks a Vevo record she gets nominated": "I didn't follow it. You know what I always say? Not that this is jealousy, but jealousy does the opposite of what you want it to — that's a yoga mantra. People forget that the choices that they make and how they treat people in life affect you in a really big way. If you do things with an open heart and you come at things with love, you would be heard and I would respect your statement. But I don't respect your statement because of the anger that came with it. And it's not anger like, 'Guys, I'm frustrated about some things that are a bigger issue.' You made it about you. Not to sound like a b*tch, but that's like, 'Eh, I didn't get my VMA.'"
On the way Nicki's comments sparked a conversation about racism in the music industry: "If you want to make it about race, there's a way you could do that. But don't make it just about yourself. Say, 'This is the reason why I think it's important to be nominated. There's girls everywhere with this body type.' What I read sounded very Nicki Minaj, which, if you know Nicki Minaj is not too kind. It's not very polite. I think there's a way you speak to people with openness and love. You don't have to start this pop star against pop star war. It became Nicki Minaj and Taylor in a fight, so now the story isn't even on what you wanted it to be about. Now you've just given E! News 'Catfight! Taylor and Nicki go at it.'"
On MTV's decision not to nominate "Anaconda": "I know you can make it seem like, 'Oh I just don't understand because I'm a white pop star.' I know the statistics. I know what's going on in the world. But to be honest, I don't think MTV did that on purpose."