Moonlight Wins Best Kiss at the 2017 MTV Movie and TV Awards
Moonlight Winning MTV's Best Kiss Award Is a Huge Leap Forward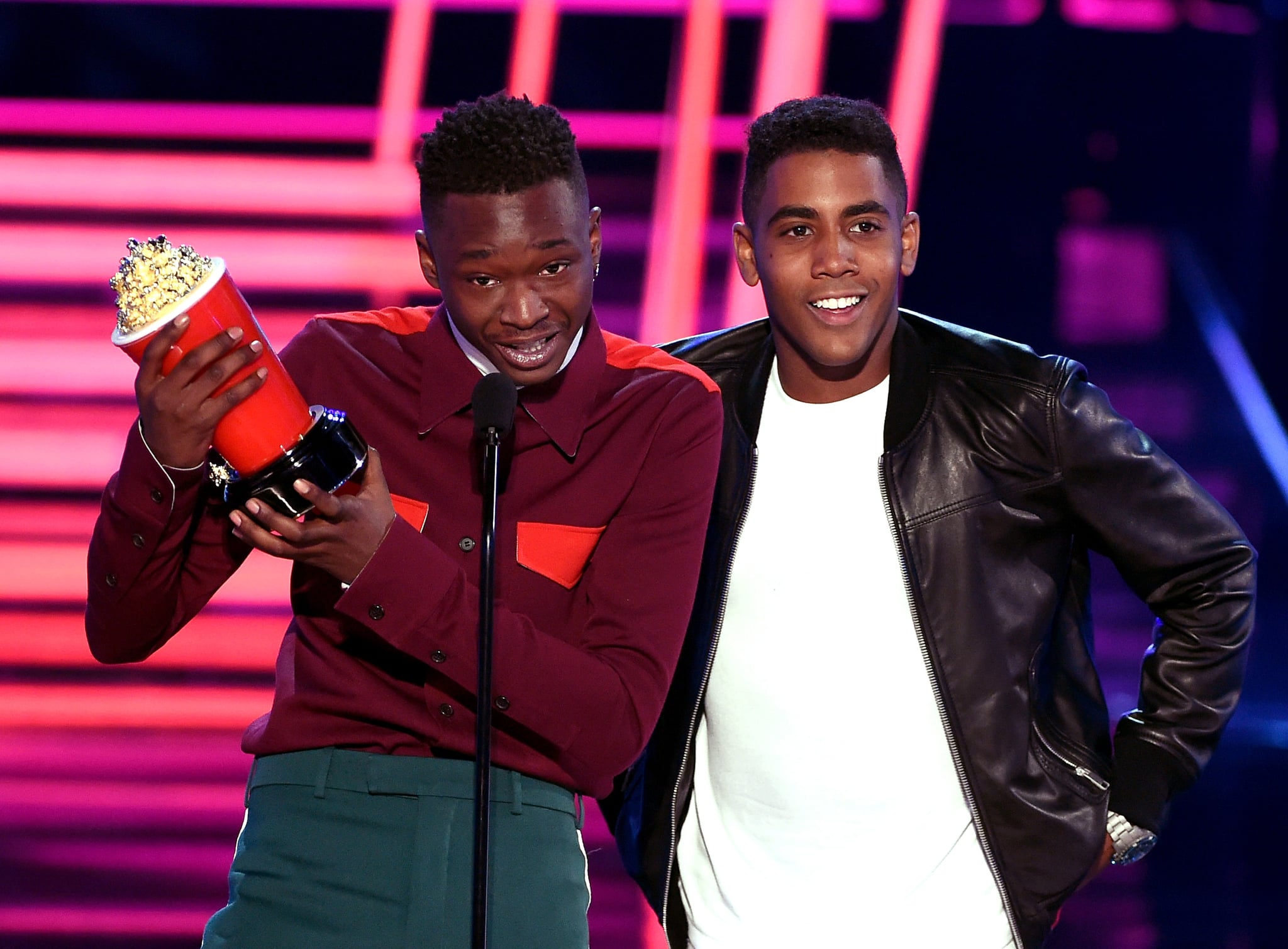 Moonlight's Ashton Sanders and Jharrel Jerome won the MTV Movie & TV Award for best kiss on Sunday night. While they aren't the first same-sex pair to earn the golden popcorn — Jake Gyllenhaal and Heath Ledger won for Brokeback Mountain in 2006 — their win is still important, and the internet at large is in full celebration mode. The pair beat out Emma Stone and Ryan Gosling in La La Land, Emma Watson and Dan Stevens in Beauty and the Beast, Taraji P. Henson and Terrence Howard in Empire, and Zac Efron and Anna Kendrick in Mike and Dave Need Wedding Dates.
While Moonlight racked up awards at the Oscars (ugh, that best picture flub), Sanders and Jerome didn't really get to speak up. After all, Moonlight was an ensemble film. If you didn't catch the speech, it's a great moment for the young stars to finally speak to a large audience about the importance of black actors playing characters who are "out of the box."
It's wonderful to see the outpouring of support from viewers, especially after a show that included so many moments celebrating diversity. (Emma Watson's groundbreaking speech is also a must see.)
Moonlight won Best Kiss!
Moonlight won Best Kiss!
Moonlight won Best Kiss!
TWO GAY POC WON BEST KISS!#MTVAwards

— Marshal Knight (@Marshal_Knight) May 8, 2017
Moonlight winning best kiss is important for all types of reasons

— Amanda Jade (@msamandajade) May 8, 2017
Okay, MTV gets a lot of flack (and sometimes deservedly so) but this is SO SO SO RIGHT. Bravo. #MTVAwards https://t.co/A0klBudK2E

— Christina Izzo (@christinalizzo) May 8, 2017
You go, boys.