Morrissey Collapsed on Stage in Swindon Last Night, Jonathan Ross Says "Do Not Panic".
Morrissey Collapses During a Gig in Swindon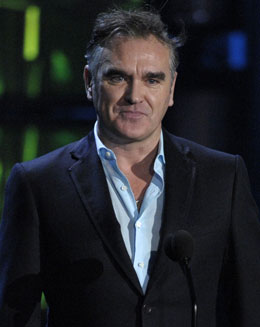 Morrissey collapsed with breathing difficulties while performing at a gig in Swindon last night. He was performing The Smiths classic "This Charming Man" when a couple of his band members had to carry him off stage. The local ambulance service put out this statement:
"Just after 9pm we got a call to a 50-year-old who was reported to be suffering from respiratory problems and was unconscious. We sent a paramedic in a double-crewed ambulance. When they arrived they found a conscious patient who was not feeling well at all. They made an initial assessment and took him to the Great Western Hospital for further assessment."
Morrissey has cancelled several dates this year due to illness and his tour is due to move on to Europe shortly. This morning Jonathan Ross has been in contact with Morrissey's PA, and tweeted that he "seems OK. I'll check to see how much info I can pass on — but for now DON'T PANIC!!"
UPDATE: Morrissey was discharged from hospital earlier today, with his condition described as "much improved".
Get well soon, Morrissey!