Nashville PaleyFest Highlights 2013
The Nashville Cast Talks Sexual Tension and New Guest Stars at PaleyFest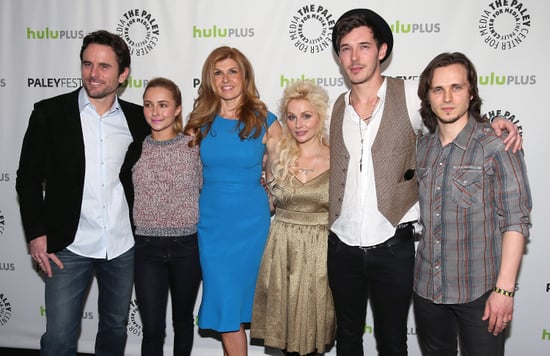 PaleyFest hosted a red carpet and panel discussion with the cast of Nashville at the Saban Theatre yesterday in LA, and we were on hand to chat with the stars of the drama. The show returns to the airwaves on March 27, and the cast gave us some clues about what to expect from the show's many romantic entanglements. They also weighed in on what they've heard about the show getting picked up for a second season and the rumors of a Nashville concert tour. We also got the scoop on a few famous faces who will be appearing on the series before this season comes to a close. Here are some highlights:
It was recently announced that The O.C. alum Chris Carmack will be joining the cast as Scarlett's new neighbor. While Clare Bowen and Sam

Palladio

were both mum on whether his arrival will spell trouble for their relationship, Sam did say that his brother's death will create some tension between them. "It's gonna be hard," Sam told us. "He ends up taking it out on Scarlett a little bit."
The cast wouldn't confirm or deny the possibility of a future Nashville concert tour. During the panel, Charles Estes said, "I know there's talk about it, but it's in vague stages . . . but there's nothing very concrete about it."
Connie Britton told us she is all for things between Deacon and Rayna heating up. "Oh, I'm pro. I'm pro all of it," she told us on the red carpet. "I love Deacon and Rayna together."
The series has already had some famous faces from the music world stop by, and there are clearly more to come. Clare told us she's been working with Vince Gill and would love to see Dolly Parton on a future episode. Meanwhile, Hayden Panettiere joked with us that she'd like to see Diddy and Juliette do a duet.