Neko Case Talks TV, Movies and Her Dreams
Neko Case is the cover girl on this month's issue of Paste magazine, and she's written an article about her seventeen favourite things. If you aren't familiar with her or her fab music, then check it out here. She includes one of my own fave television shows, beverages, artists, bats and books on her list, but here are a few excerpts from her list: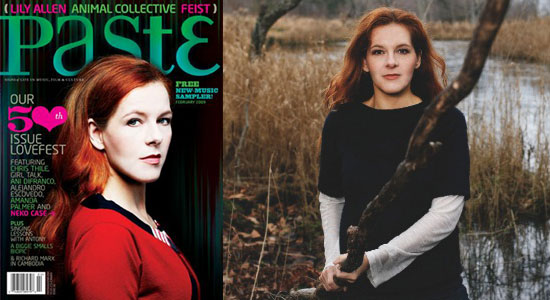 The Mighty Boosh — Why hasn't this British comedy show been released in the United States yet?!
Weird Science — My favourite John Hughes movie. Best watched when super-tired. I love the line where Kelly LeBrock is yelling at Wyatt's grandpa, saying, "You can't just go around hitting people with your Rex Harrison hat!" And who can forget Chet?
Co-Ed Rock 'N' Roll — Chicks on one side, men on the other = lame. I want my music all-in. I'm not talking about tough-as-hell all-girl bands, just the "women only" camps. They want in your wallet! It's a gimmick where the joke's on the ladies. Nine times out of ten it's a man's idea anyway—some lawyer, promoter or manager. Let's just balance it out by adding more ladies to bands with guys. Then, we all win.
To read Neko's thoughts on her own dreams, just read more.
Remembering My Dreams — I think this may be my very favourite thing on Earth. I have a lot of dreams where people who've passed away call me on the phone. It's always a grey princess phone. Hmm... A lot of the songs on my record come from dreams—"This Tornado Loves You" and "Prison Girls" both. Once I dreamt I was getting it on with Steve Earle and Madonna. She told me my hair looked like a wig. I had a dream where Jim James from My Morning Jacket and my friend Jocelyne were driving around in a beat up Smart car looking for an elephant that had gotten loose from a local farm. I guess Jocelyne was going to lead the elephant home by his leash out the window. Jim was using only a walkie-talkie to communicate, even to speak to Jocelyne, who was sitting right next to him—in a Smart car! It was awesome. I could go on. But the best dream I've had lately was where my grandma called me on the grey princess phone, and I answered it in the middle of a big green pasture. She passed away a year ago, but she was calling to tell me she was feeling much better and wanted me to know she was looking out for me. She said she was travelling through Thailand and having a ball; in fact she had to go so she wouldn't miss her connection. "Wait!" I said, "Do you have anything else to tell me?" She thought about it for quite a while. She finally answered in a soft and serious tone, "Make sure you have your say." She said it like she was telling everyone, so I thought I should let you know.
Neko's issue of Paste is out now, and you can read the full article at their website!