Nelson Mandela Death
Nelson Mandela Has Passed Away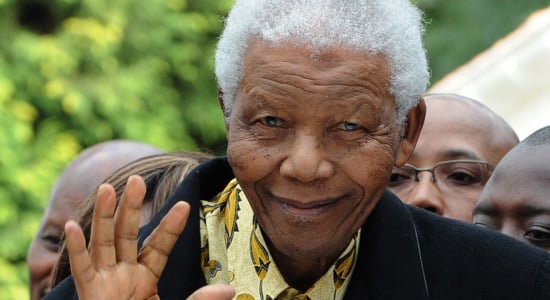 Former South African president and human rights activist Nelson Mandela passed away today at age 95. The former world leader was first admitted for care on June 8, and supporters gathered outside the hospital while he was said to be in critical condition. Mandela was discharged in September after being treated for a recurring lung infection, and he'd spent the past few months receiving at-home care.
As an antiapartheid leader, Mandela was jailed for 27 years before stepping into the political spotlight as the South African president, serving from 1994 to 1999. Over the years, Mandela's efforts toward equality were an inspiration to people across the globe, and in 2009, the United Nations declared July 18 to be Nelson Mandela International Day in honor of his contributions to democracy and peace. During a 2001 interview, Nelson Mandela told Oprah that he didn't fear death, saying, "Shakespeare put it very well: 'Cowards die many times before their deaths; the valiant never taste of death but once. Of all the wonders that I yet have heard, it seems to me most strange that men should fear; seeing that death, a necessary end, will come when it will come.' When you believe that, you disappear under a cloud of glory. Your name lives beyond the grave — and that is my approach."
In a televised announcement, South Africa's current president, Jacob Zuma, said Thursday, "Our nation has lost its greatest son. Our people have lost a father. What made Nelson Mandela great was precisely what made him human. We saw in him what we seek in ourselves." President Obama also gave an emotional address following the news, saying "I cannot imagine my life without the example of Mandela." Watch it below.