Nickelodeon UK Kids' Choice Awards Nominations Announced!
Nickelodeon UK Kids' Choice Awards Nominations Announced!
The Nickelodeon UK Kids' Choice Awards nominations have been announced ahead of September's ceremony – which will be the second British KCAs – and children and teens across the nation are voting for their favourites online. We saw the US picks earlier this year, but the UK ceremony has a fun peppering of Brits we all know and love among the nominations. Doctor Who is nominated for four awards, including one for David Tennant, and Catherine Tate and Freema Agyeman are battling American teens Miley Cyrus and Miranda Cosgrove (iCarly) in the Favourite Female TV Star category.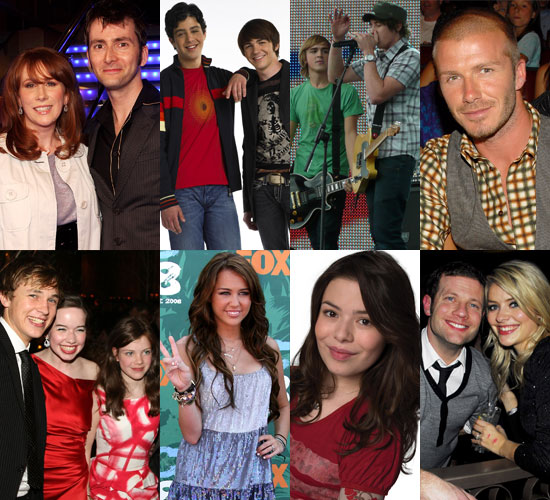 Dermot O'Leary, Holly Willoughby, David Beckham, Sugababes, Lewis Hamilton, Ting Tings, Alphabeat and Daniel Craig are also up for awards, but for the full list of nominations just read more
Here's the nominations in full!
Favourite Kids' TV Show
Hannah Montana
Drake & Josh
The Suite Life Of Zack & Cody
iCarly
MTV Hits Favourite Song
"Bleeding Love" Leona Lewis
"That's Not My Name" Ting Tings
"Rockstar" Nickelback
"Don't Stop the Music" Rihanna
"Fascination" Alphabeat
"Heartbeat" Scouting for Girls
Favourite Film
Indiana Jones And The Kingdom Of The Crystal Skull
Narnia: Prince Caspian
The Golden Compass
The Spiderwick Chronicles
Favourite Singer
Mika
Leona Lewis
Duffy
Chris Brown
Favourite Band
Girls Aloud
Sugababes
The Hoosiers
McFly
Favourite Male TV Star
David Tennant
Dylan Sprouse
Josh Peck
Jonas Armstrong
Favourite Female TV Star
Catherine Tate
Miley Cyrus
Freema Agyeman
Miranda Cosgrove
Favourite TV Presenter
Ant & Dec
Harry Hill
Dermot O'Leary
Holly Willoughby
Favourite Kids' Cartoon
SpongeBob SquarePants
Ben 10
Shaggy & Scooby
Horrid Henry
Favourite Family TV Show
Doctor Who
Britain's Got Talent
The X Factor
Harry Hill's TV Burp
Favourite Male Film Star
William Moseley
Daniel Craig
Freddie Highmore
Shia LaBeouf
Favourite Female Film Star
Amy Adams
Georgie Henley
Anna Popplewell
Dakota Blue Richards
Favourite Animated Film
Ratatouille
Horton Hears a Who
Kung Fu Panda
Wall-E
Favourite Sports Person
David Beckham
Lewis Hamilton
Steven Gerrard
John Cena
Favourite Baddie
The Daleks
Simon Cowell
Plankton
Randy Orton
Favourite Winner
George Sampson
Leon Jackson
Suzanne Shaw
Alesha Dixon
Favourite Funny Person
Harry Hill
Ant & Dec
Catherine Tate
Dick & Dom
Kids can cast their votes online now!