Nikki Reed on Wedding to Paul McDonald Interview
Newlywed Nikki Reed Tells Us Why Edward Cullen Wouldn't Have Approved of Her Wedding!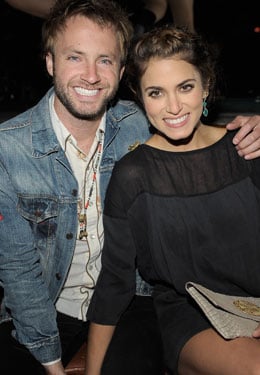 We sat down with Nikki Reed this weekend at the Breaking Dawn Part 1 press day to talk about the second-to-last installment in the Twilight saga. It's been a major year for Nikki, who tied the knot with American Idol alum Paul McDonald in mid-October. We talked with the actress about her big day and how it compared to Bella and Edward's onscreen nuptials. She also told us a little bit about the very secretive wedding scene in the film and said the cast was even kept in the dark about the major details until the day of the shoot. Stay tuned to watch our full interview with Nikki in the coming days, and in the meantime, check out these highlights from our chat:
PopSugar: What were some of the great lengths they went to to keep the Breaking Dawn wedding scene under wraps?
Nikki Reed: Gosh, I don't even know because they kept everything a secret from us, even. So, I mean, I guess that's one thing that they did. I think there were tents everywhere and then they basically don't even give us the opportunity to have anything to tell...All our dresses were kept a secret, even from one another. I didn't know what anyone else's dresses looked like. I mean, it's all a big secret. I didn't even see the movie until 48 hours ago!
PS: What was it like, then, when you saw Kristen come down the aisle in that amazing dress?
NR: It was stunning. It was beautiful.
PS: Was there anything from [Bella and Edward's] wedding that inspired your own wedding? Any elements?
NR: No, but that's not because — I mean, their wedding was beautiful. It was beautiful, it was like a movie. It was sort of very classic and traditional and timeless and Kristen looked absolutely gorgeous. But my wedding was much more casual and sort of like, relaxed, and not as conventional. It was like hay bales and twinkle lights and no shoes and that kind of thing, which Edward Cullen would not have been okay with!
PS: That's true. This one was a little over the top you have to admit.
NR: Yeah, but it needed to be. It's like the wedding of the century!