Nina Dobrev in Cosmopolitan September 2013 Issue
5 Quotes That Prove Nina Dobrev Is the Coolest Girl Around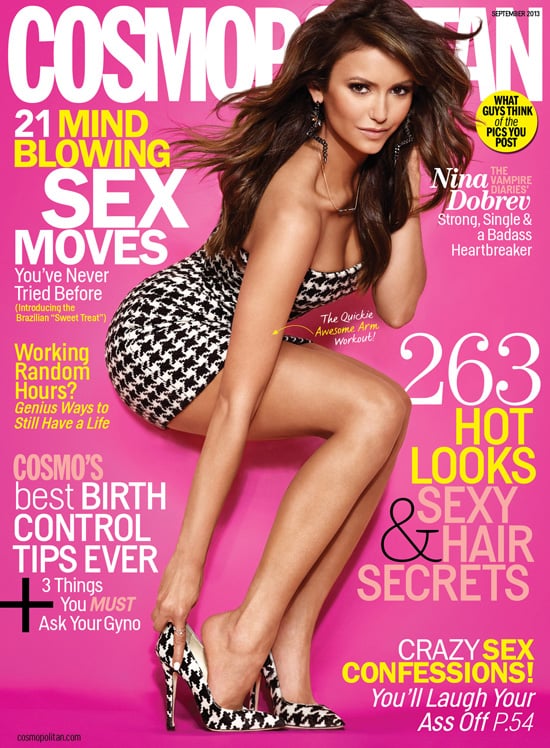 Hot on the heels of her fun, vacation-filled Summer, Nina Dobrev covers Cosmopolitan's September issue — and we think it's safe to say that the single life suits her! The Vampire Diaries star sizzles in a strapless houndstooth minidress and matching pumps for the cover shot, and in the accompanying interview, she doesn't hold back when it comes to talking about exercise, the opposite sex, and her best friend Julianne Hough, saying, "It's been cool to find an active buddy."
In case you weren't convinced that she would make the perfect BFF, here are the five coolest quotes from Nina Dobrev's Cosmopolitan interview:
1. On her friendship with Julianne Hough: "There are lots of girlie girls around. We don't talk about makeup; we talk about life."
2. Her philosophy on relationships: "People aren't defined by their relationships. The whole point is being true to yourself and not losing yourself in relationships, whether romances or friendships."
3. On handling pressure: "I'm constantly trying to make myself better, to learn more. I didn't finish college, so I feel like I'm always having to prove myself. I don't want to feel like the smallest person in the room."
4. On her future plans: "I want to open my own yoga studio. Planning construction and looking at properties is fun. I'm using a different part of my brain. You know that feeling when you use a different muscle? You're excited to be exercising it but you get a little sore! Yoga changed my life. Hopefully, it will do that for others."
5. What's her type? "I'm not a one-night-stand kind of girl. I'm a relationship girl. A man in a suit looking put together and dapper is very attractive, but I also kind of like the I-just-rolled-out-of-bed, a-little-bit-of-scruff, effortless, not-trying-hard-but-still-sexy guy. If a guy spends more time looking in the mirror than I do, that's a problem."