Orange Is the New Black Season 5 Recap
Of Course Orange Is the New Black Season 5 Ends With a Big Old Cliffhanger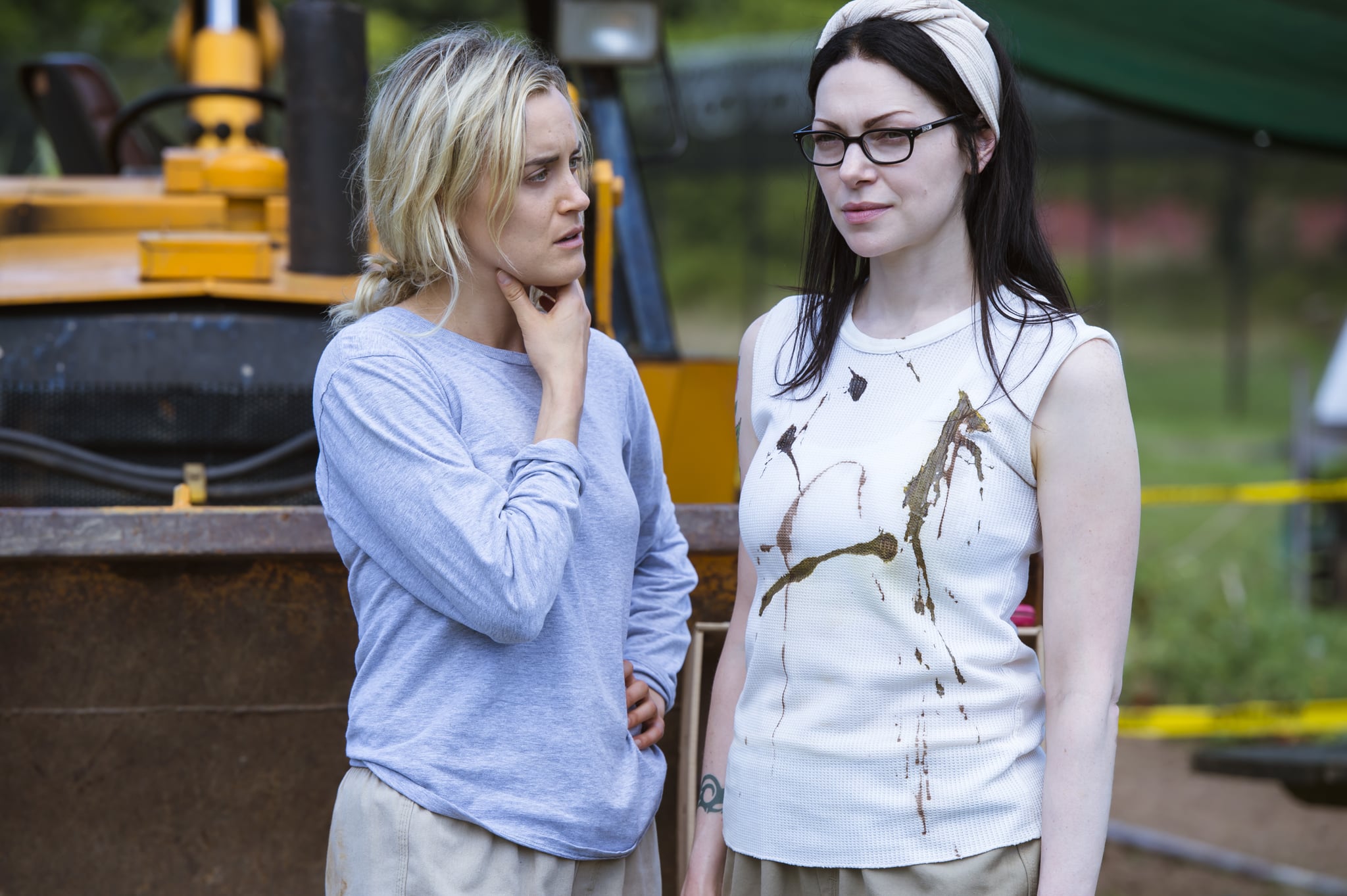 We waited one long, tough year for this. Season five of Orange Is the New Black came out on June 9 and, yes, we binge-watched it immediately. If you thought the first four seasons were crazy, prepare to have your mind blown! There's a pregnancy announcement, an engagement, and pure mayhem. These are the big events that happen throughout season five (so you've been warned, there are HUGE spoilers ahead).
Dayanara Diaz Actually Uses That Gun
Some background: At the end of season four, there's a full-on outrage because Caputo sides with CO Bayley in regards to Poussey's death at Litchfield. Although he isn't supposed to have a gun in the prison, CO Humphrey brings one in. He tries to reach for it during the chaos but drops it. Daya picks up the gun and we're left at the end of season four with her holding the gun on a kneeling Humps while a huge crowd of inmates is yelling around her.
In the first episode of season five, Daya shoots Humphrey in the upper thigh, and blood quickly fills the floor. No one on the outside knows about the shooting until Judy King is released from Litchfield, goes on television, and lets it slip. Daya turns herself in shortly after. As for Humps, he ends up dying episodes later after complications in the prison hospital ward. The inmates take the correction officers hostage as a bargaining tool for their demands — including Flamin' Hot Cheetos, free tampons, and justice for Poussey Washington, as well as better prison conditions and treatment.
Linda Becomes an Undercover Inmate
We know Linda Ferguson as the Management & Correction Corporation (MCC) buyer for the prison who has a fling with Caputo. Linda is in the prison when the riot starts, and she hides in a bathroom stall. Luckily for her, she runs into Piper and Alex and convinces them to take her under their wing. They give her prison clothes and help her come up with a backstory to blend in.
Linda becomes involved with Big Boo (Lea DeLaria) and in episode of 11 of season five, the two kiss in the bathroom. But then, Boo finds her phone, sees a picture of Linda with Caputo, and starts to put everything together. She doesn't tell Linda what she sees until later, but then Boo exposes her to the prison and they throw things at her.
Gloria's Son Goes in the ICU
Gloria's son ends up in the ICU after a bunch of thugs jump him. Caputo tells Gloria that he could try to get her furlough if she releases the hostages, aka the prison guards. Gloria comes up with a plan to get them out and tells Maria Ruiz about it. (More on this later.)
Piscatella Kidnaps and Tortures Inmates
One by one, Piscatella takes inmates, ties them up, and traps them in a room in the prison. There are six altogether, including Piper, Alex, Boo, Nicky, Blanca, and Red. He sets out to make an example out of Red and cuts her hair with a knife, exposing her scalp and causing her to bleed. Nicky makes a comment about how he must have had a messed up childhood and Piscatella slaps her across the face. Alex tries to attack him with a small pair of scissors she is able to inch around her back, but Piscatella stops her, then breaks her arm.
"In a day or two, or whenever this is over, it's gonna be my word against a bunch of criminals who are rotting away in max. Who do you think they're going to believe?" Piscatella says. But, surprise! Gina had recorded part of Piscatella's torture on a cell phone and the video goes viral online. Gina lures Piscatella down to another room where she and a bunch of other inmates were hiding. Frieda shoots him with a SpitJack filled with a substance in the neck, knocking him out. The inmates tie him up and he remains in their custody until the last episode.
Lorna Is Pregnant!
Lorna Morello Muccio's on-again, off-again hookup with Nicky is on again one more time early in season five. About an hour afterwards, Lorna says she knows she's pregnant from the way her breasts look. Remember that romantic bang session against a vending machine moments after Lorna said "I do" to a man she met through a prison pen pal system? Well in episode 12, she finally takes a bunch of pregnancy tests and they all come back positive. At first, her husband, Vince, runs away from the situation, literally. But after a talk with Nicky in the final episode, he's all in and ready to be there for Lorna and their baby.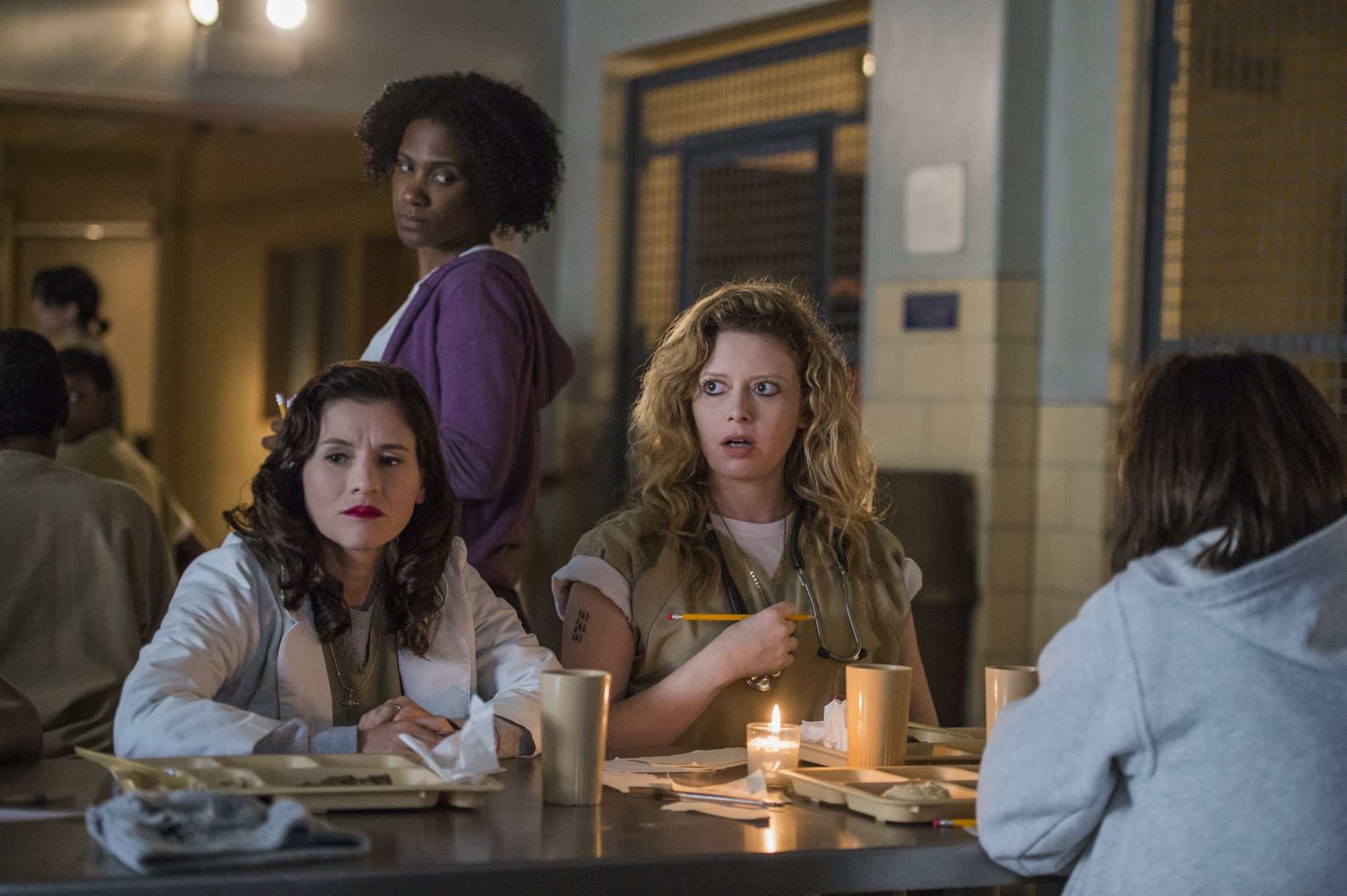 The Hostages Are Released
Remember how Gloria could get furlough if she released the hostages? Well, she stows them away in porta-potties so she can cut a hole in the fence and lead them all to freedom. But the guards get out before she can. Other inmates find out about her plan and think she is selfish since they all want to see their kids too. So they stop Gloria from following the inmates out of the prison. But Maria knows Gloria's plan and uses it to her advantage by running with the guards and claiming she had made the deal to release the inmates in exchange for getting time off of her sentence. We don't know how that all plays out yet, but as Maria is in custody, her man brings her baby daughter outside of the prison and they allow her five minutes with her.
Piper Proposes to Alex!
At the end of episode 12, Piper proposes to Alex in front of a couple other inmates. It's short, simple, and she says yes!
The Riot Is Over
As the hostages are released, the SWAT team charges the prison, knocking inmates down and using stun guns. Some inmates are caught, others surrender freely, and others barricade the door and set up traps à la Home Alone. The barricaders execute their attack plan but get carried out in restraints. At the end of the raid, there are still 10 prisoners hiding — who are pretty much all of the main characters like Piper, Alex, Red, Taystee, and Crazy Eyes. Caputo suggests that they're probably in the old pool and he's right. The SWAT team goes in to find them and just then, Red decides to let Piscatella walk out of there while they wait and frees him from his ties. Piscatella steps out into the hallway and as he's trying to identify himself, he's shot in the head by a SWAT. The women are loaded into vans to be taken away from Litchfield. As for the inmates hiding in the old pool, the SWAT team busts down the door and we're left with another cliffhanger.
The big question on everyone's mind is perfectly said by Caputo in the final episode, "What's gonna happen to them now?" See you all for season six of OITNB!