The Other Boleyn Girl's Scarlett Johansson Speaks Out About Mary Queen Of Scots And Her New Album
Scarlett Speaks About Singing, and Mary Queen Of Scots
So here it is, the final installment of my Q+A with Scarlett Johansson, Natalie Portman and Eric Bana. In the first, second and third parts you read about The Other Boleyn Girl, as well as the actresses' thoughts on the upcoming US elections. In this final part we talk to Scarlett about her upcoming projects, and the amiable Eric interrupts to joke around (yet again!). I'll also give you my thoughts on the movie, which is out this Friday (March 7) in the UK.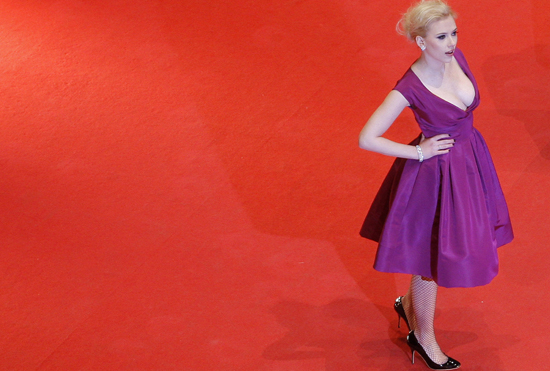 Tell us a little about your upcoming movie, Mary, Queen Of Scots.
SJ – Phillip Noyce is directing and we'll be shooting in the summertime, I'm not necessarily sure on the locations, but…

Eric Bana – Toronto?

SJ – (laughs) but yeah it should be an adventure, spanning from her return to Scotland to her execution, so it's a lot to fit into two hours. With the accent, we'll see… it's been an interesting discussion. Her ladies in waiting were Scottish so I guess her English would be with a Scottish accent, but she was living in France so it should be interesting, probably a big mess.

EB – Sounds like you can get away with whatever you want.

SJ – Yeah… it will be like a Chinese accent.
Scarlett tells us a little about her album after the jump, and I'll review The Other Boleyn Girl! So read more
And finally, could you tell us a little about your upcoming album of Tom Waits covers?
SJ – I'm very excited about it, it was a really great project that I had the opportunity to explore, and I couldn't really pass it up – All my friends would kill for that opportunity to be able to record a full album and work with Dave Sidek from TV On The Radio. It was an inspiring career change for a bit. I just look forward to it coming out.
And with that they were gone, back to their suites to get ready for their meeting with Prince Charles and Camilla before the Royal Premiere of The Other Boleyn Girl.
So, what of the movie? It opened in the US last week to mixed reviews and fourth position at the box office. I enjoyed it though. The story is interesting throughout and Natalie and Scarlett give great performances, holding on to their Brit accents admirably. Eric's a little less remarkable as King Henry VIII, which was disappointing to me as he's so full of character in real life. But Henry is not at the centre of the movie, it is the two women, so in some ways I'm glad his performance did not deflect from them too much. As a rule I'm not a huge fan of period movies / TV shows, so I wasn't sure how much I'd enjoy The Other Boleyn Girl, but I'm really glad I got to see it. Even thought I knew what was going to happen to Anne Boleyn at the end, I was still kept interested, which to me is a pretty mean feat! It's a curiosity-bating fictional take on a well-known story. The film's out on Friday (March 7) and I'd be really interested to know what you all think too.
Right, I'm off to start reading the novel now, to see what was missed out...