Outlander Lord John and Hector
Why Outlander Cut Basically Everything About Lord John's Lover
Outlander fans who haven't read the book series may have been wondering a bit about Lord John Grey, a character we briefly met in season two who reappears as the governor of Jamie's prison after he gives himself up for treason to spare his family at Lallybroch. In episode three, "All Debts Paid," Lord John realises he needs to work together with Jamie, who has essentially been named the leader of the prisoners, and the two develop an unlikely friendship. Lord John even confides in Jamie about his former lover, something non-book readers were wondering about, so author Diana Gabaldon kindly pointed them in the right direction with a Facebook post instructing them to Google "Outlander Lord John Hector" so that they may read up on Lord John's backstory.
On the show, Lord John tells Jamie that he "lost a particular friend at Culloden."
"He was the reason I joined the army," says Lord John. "He inspired me . . . My brother was there when I found him dying. I didn't even have the chance to say a proper goodbye. Hal dragged me away. He was embarrassed, you see. He said I would overcome it. Come to terms with it, in time. Hal is generally right, but not always. Some people, you grieve over forever."
In Voyager, this is a slightly bigger deal for Lord John. Readers learn that the man Lord John had loved was Hector Dalrymple, a lieutenant in Hal's regiment whom Lord John describes as "twenty, tall and muscular and fearless . . . dark-haired and blue-eyed, tender-mouthed, always smiling."
"It had been ten years since Hector had died at Culloden, hacked to pieces by a Highland broadsword, and still John woke in the dawn sometimes, body arched in clutching spasms, feeling Hector's touch."
Also in the book, Lord John reveals that Hal had made him go look at Hector's body.
"He said that I must; that unless I saw him dead, I should never really believe it. That unless I knew Hector — my friend — was really gone, I would grieve forever. If I saw, and knew, I would grieve, but then I should heal — and forget. Hal is generally right, but not always."
In her Facebook post, Gabaldon reveals that they actually shot that scene for the TV series, but it had to be cut for time.
"Fwiw [For what it's worth], the original script had Hector's death scene, including Lord John's being dragged away by his brother," she wrote. "It was filmed, but cut for lack of time, something that often happens in TV, alas."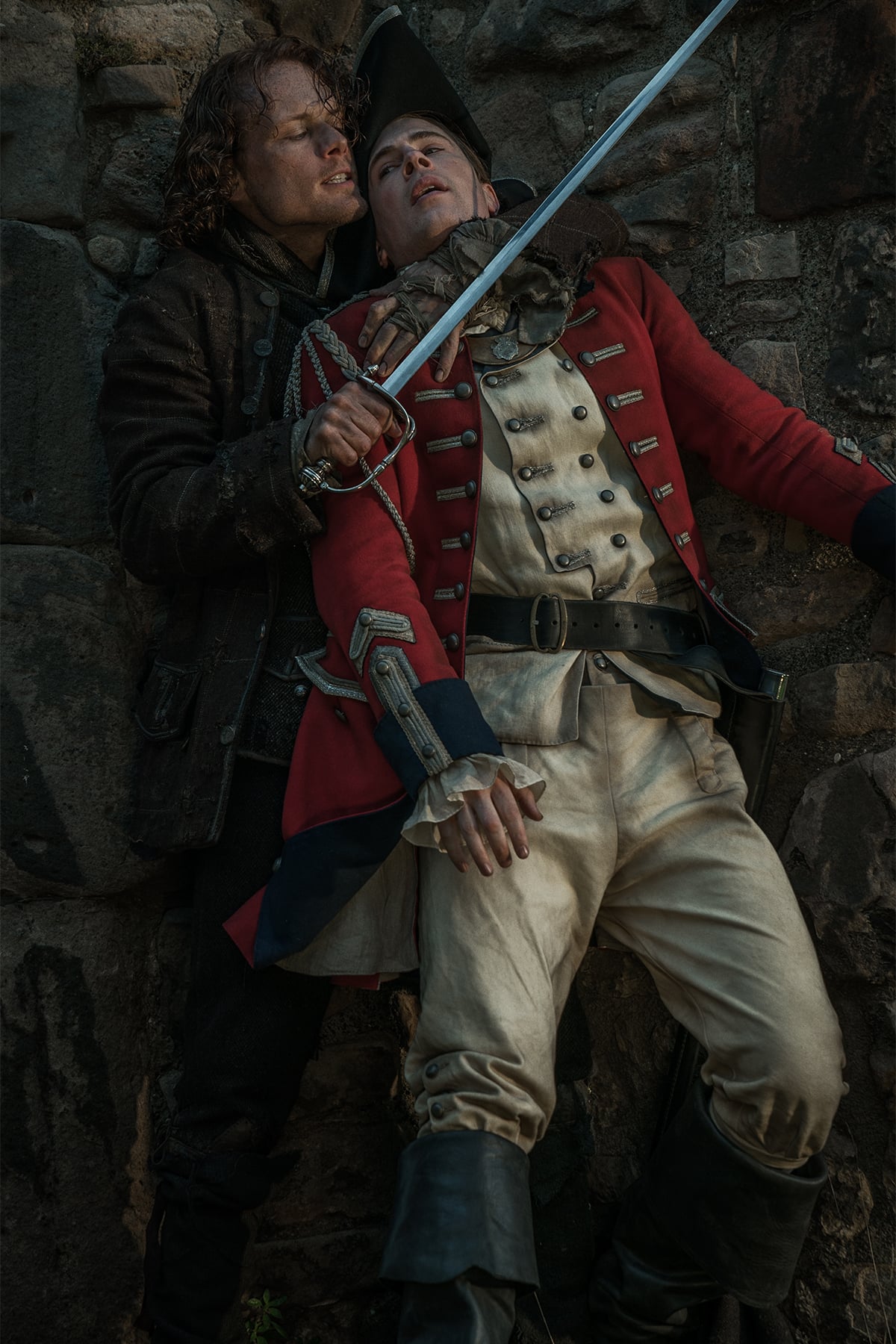 Executive producer Maril Davis also told us in an interview at the 2017 Summer TCA press tour that they very much wanted to include more between Lord John and Jamie, but they just didn't have time.
"That's the trouble with taking a parallel storyline, doing a Claire story and a Jamie story — we did have to truncate [Lord John and Jamie] and that is one of my great regrets, because that is one of my favourite parts of the book, seeing that relationship unfold," Davis revealed. "It's even more heartbreaking when John reaches out and grabs Jamie's hand and the heartbreak in Jamie to be like I opened up and I trusted you and I haven't done that in so long. But I still think that scene really works. Sam [Heughan] is heartbreaking in that scene and so is David Berry; he's a fabulous addition to our cast."
Also, if you think Jamie saying goodbye to Lord John and William at Helwater is the last we've seen of Lord John (or William), think again. There's plenty more to come with that particular character, even if his dramatic scene of finding Hector slain in battle was cut for time.