Oz: The Great and Powerful Full Cast List
Casting Update: Who's in For Oz: The Great and Powerful
Oz: The Great and Powerful is the latest film project to put a new spin on a childhood classic. Like Broadway musical Wicked, this take on The Wizard of Oz will be a prequel to Dorothy's experience down the yellow brick road, but this time it will be told from the perspective of the wizard himself. The 3D movie is set for a 2013 release, so even though that's a long ways away, I've put together a list of who's been cast so far so you'll know what you're in for.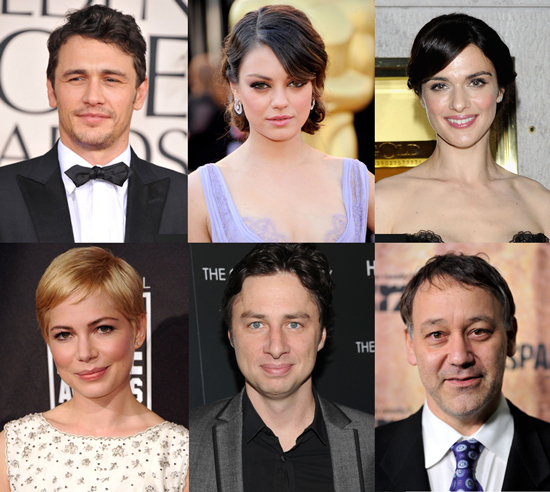 James Franco will star in the title role as the wizard, a magician whose air balloon blows off course and ends up in the Emerald City, where the citizens look to him to help get rid of the wicked witch plaguing them. Before Franco, Johnny Depp and Robert Downey Jr. were both attached to the part.
Mila Kunis will play Theodora, the youngest of the three witches who starts out as good, but is convinced by her evil sister to go bad, ending up as the Wicked Witch of the West. No confirmation yet on whether she'll have green skin, but my fingers are crossed.
Rachel Weisz is set to play Evanora, Theodora's older and much more evil sister, the Wicked Witch of the East.
Michelle Williams will play Glinda, the Good Witch of the North and symbol of good in the kingdom.
Zach Braff is the latest to join the cast as Frank, Oz's loyal assistant in the Emerald City. It's been speculated that the character is based on author L. Frank Baum.
Sam Raimi will direct the film, having signed on last Summer. He's best known for helming the three

Spider-Man

films, so he should be more than ready to take on the effects of the 3D Oz.
Mad Men's Abigail Spencer will play a woman who lets the wizard perform magic tricks on her while in Kansas.