PIcture of X Factor Contestant Shirlena Johnson Who Has Been Axed After Hiding Her Mental Illness
Shirlena Johnson Has Been Axed From The X Factor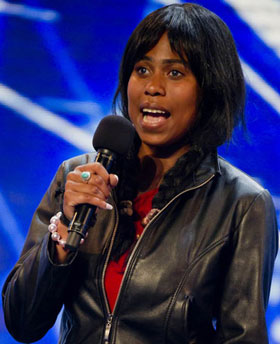 Shirlena Johnson has been removed from The X Factor competition after she hid her mental illness from show producers.
Her unique performance of "Mercy" on Saturday's show had the judges and audience smiling, and a performance of Lady Gaga's "Bad Romance" at boot camp — which has been filmed and not seen on TV yet — had Louis, Simon and guest judge Nicole Scherzinger amused.
Shirlena said of her decision not to tell producers:
"I just wasn't sure how much I was supposed to say. I'm very upset. I think people want to hear more of me and they will be disappointed by this. It's not fair. I want another chance."
Meanwhile Simon Cowell is sad she can't give her daughter the life she wanted to. He said:
"I'm devastated. It's heartbreaking. . .I really feel for her. I'm very upset and disappointed. The advice I'm given is she can't do the show. But there's another argument that we're depriving her of the chance to make some money. Even if she didn't win, she could have picked up money for personal appearances. On the other hand, if we don't take the advice we're irresponsible."
Producers found out about her condition after receiving a report from her GP and psychiatrists feared her condition may worsen if she is propelled to further fame. Her mother is upset that they gave her this opportunity and then took it away.