Patrick Swayze Diagnosed With Pancreatic Cancer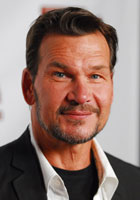 Patrick Swayze was diagnosed with pancreatic cancer over a month ago, his rep confirmed to PageSix.com. The incredibly tragic news was first reported by the National Enquirer this morning, but we hoped that it wasn't true. Our thoughts are with Patrick and all his loved ones during this sad time.
UPDATE — Patrick's rep has issued the following statement to TMZ: "Patrick's physician Dr. George Fisher states,'Patrick has a very limited amount of disease and he appears to be responding well to treatment thus far. All of the reports stating the timeframe of his prognosis and his physical side effects are absolutely untrue. We are considerably more optimistic.' Patrick is continuing his normal schedule during this time, which includes working on upcoming projects. The outpouring of support and concern he has already received from the public is deeply appreciated by Patrick and his family."