Penelope Cruz Can't Believe She Got to Work With Woody Allen
Penélope and Alec Still Can't Believe They Got to Work With Woody Allen
The cast of To Rome With Love was in NYC Tuesday to chat about their new Woody Allen-directed comedy, which hits theaters in the US tomorrow. Penélope Cruz headed up a roster of actors including Alec Baldwin, Ellen Page, Greta Gerwig, and Italian star Alessandra Mastronardi to chat about the project at the Loews Regency Hotel. Woody spoke about his movie-making and writing process, but it turned out that he was the topic of most of the discussion. Penélope, Alec, Woody, and Greta all spoke about the privilege of working with Woody, calling themselves "nervous" and "lucky" to even be there. Here are highlights from their press conference: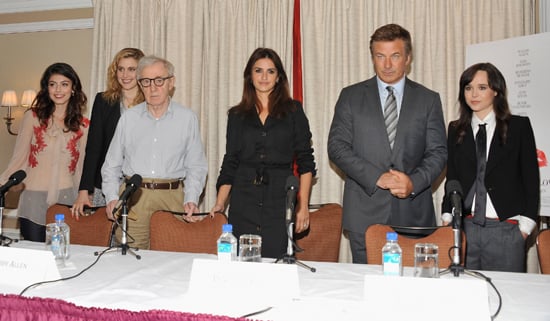 Penélope on shooting in Rome: "I loved working there, and I am a huge fan of Italian cinema. There are things about [her character] Anna that I thought about in the back of my head, but she is also a character that has no filter with her brain, and she says everything she feels. It's so refreshing to play somebody like that, and it was refreshing and beautiful to be with Woody in homage to Italian cinema."
Alec on working with Woody: "With Woody Allen, you have someone who is responsible for more memorable moments on every level of writing, producing, directing, and acting than any other person who has lived in film, really. You think about the countless, countless dozens of films — and even Woody Allen's less successful efforts are better than most other films you see. Then you see the greatest films he's made, and they are some of the greatest films ever made. So when he calls you and asks you to come and do this with him, if you're available, you go. You want to hitch a ride on this and be a part of them, because this is a guy who is just on an island of his own in terms of filmmaking."
Penélope on trying to keep Woody's career in perspective: "I was trying to look at him and forget all the admiration, all of the respect, and all of the beautiful moments that I had experienced through his work. Because if you don't put that aside and focus on what you have to do, I would be starstruck the whole time. It still happens to me when I am with him. I find him so fascinating. He's so unique. I'm lucky that I get to be directed by somebody that I admire so much, and I am lucky I get to hang out with him, that I get to spend time with him, that I get to hear him speak. He makes me laugh all day long, so I feel really lucky that I get this time with him."
To read more from the cast and Woody on the movie, just read more.
Penélope on working with Woody: "Well, I have been very lucky to work with him twice. The first time I was terrified because you hear all of these stories about him, and yet, my first meeting with him was very peculiar, because I went into his office and immediately you feel you are in Woody's world, because everything is so unique. The meeting was 30 seconds long and he's all, 'Nice to meet you, I think you would be great in this role. I'll see you on the set.' I left and I never saw him again until we were on set."
Woody on incorporating intellectual references: "I just find that stuff funny. I am not an intellectual at all, but I find intellectuals amusing, and so I write about them in comic dilemmas and comic situations. If I was pressed as an intellectual, I would be dead. But as a writer and someone just making jokes about them, I can do that because it's something that interests me, and for whatever reason or accident, I find that social amok amusing. All of it comes out inadvertently in everything I do."
Greta Gerwig on Woody's influence: "I love his films more than I love any films, and I grew up watching his movies over and over again. I spent a lot of time imitating characters from his movies, and I learned what books to read by references like Death in Venice — I read that because it was mentioned. I wouldn't live in New York if it weren't for his movies, and I wouldn't have wanted to be an actor if it weren't for his movies, so I was very nervous and I am still very nervous. I cannot believe this moment is happening."
Ellen Page on Woody: "I think I felt really similar to Penélope when this opportunity arose. I felt very, very nervous, probably the most nervous and intimidated I have ever been to go film. I think it's also because the role itself was a bit of a departure for me, perhaps, from what I am used to doing, and having that opportunity was wonderful but also intimidating. I was like, 'I don't want to get there and not be able to pull it off.'"
Woody on allowing ad-libbing in his movies: "When I did Vicky Cristina Barcelona, Javier Bardem and Penélope were ad-libbing all over the place, and I didn't understand anything they were saying. To this day, I have no idea what they said in certain scenes, but it didn't matter to me. I could see that they got it right and they were happy in the correct fashion for that moment. It was academic what the actual words were, but it was the emotions that were clearly correct, so it's not so hard."
Alec on shooting in Italy: "I haven't shot in a lot of countries, but I have visited a lot of them, and I think Italy has more of a sense of humor, Rome has more of a sense of humor, than the places I have been. . . . It was very loose and a very relaxing place and it's not very self-conscious. Everybody there was very warm, and every cliché I had heard about spending a long time in Rome is true. It was so pleasant and relaxing to shoot there, and the people were so low-key."
Woody on why he shoots abroad: "That's where the money comes from. I have trouble getting funded all of the time, and after every picture, it's a scramble. And I make the movies for very little money, really very little. Everyone is nice enough to work for little money, but I still have trouble raising the very little money. In Europe and other places — Asia, South America — people call up and say, 'If you make a picture here, we'll pay for it.' And that's how it started with Match Point, and then Barcelona called, and France called, and Italy called, and a number of other countries have asked if I could make pictures there. . . . I was able to, through a very clever series of con games, raise the money to make my next picture in the United States, but I really had to tap dance."