Pete Doherty Has Been Released on £50,000 Bail Following Car Chase, Heroin Posession, Driving Under The Influence Of Alcohol
Pete Doherty Released on £50,000 Bail After Police Car Chase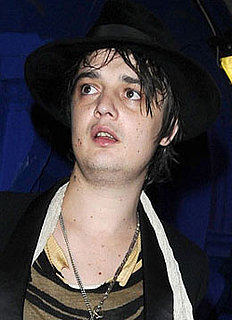 Pete Doherty has been released on £50,000 bail, provided by his manager, following his arrest yesterday. In the early hours of Thursday morning Pete got into a car chase with police, drove while under the influence of alcohol, and heroin was found in his car and, later, his house.
He was in Gloucester for a gig on Wednesday night, when police tried to stop him for driving erratically, Pete then apparently sped away and mounted a kerb and when he stopped he tried to swap seats with a female passenger.
Pete denied a charge of dangerous driving at Stroud Magistrates' Court today, and pleaded guilty to two counts of possession of Class A drugs, driving without a licence and driving without insurance. He didn't enter a plea to the charge of driving while under the influence of alcohol. His lawyer said:
"My client would firstly like to express his disappointment in himself and disappointment that he has let his fans down. He has been out of trouble for over a year and a break of 14 months represents a real achievement for someone with a drug dependency. This offence represents an aberration. There a been a very real and very significant change in his behaviour."
Pete was ordered to obey a curfew while not performing and has been told to refrain from taking any illegal drugs. The case has been adjourned until 11 August.