Photo of David Boreanaz and Wife Jaime Bergman Who He Has Admitted Cheating On During Their Marriage
David Boreanaz Admits to Cheating on His Wife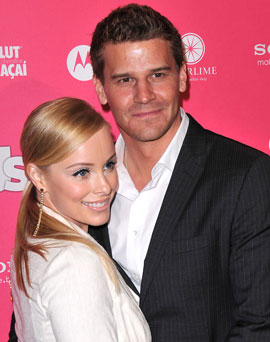 David Boreanaz has admitted to cheating on his wife Jaime Bergman more than once during their nine year marriage.
Bones star David has come clean after one of his mistresses contacted media outlets via a lawyer to sell her story, he said:
"Our marriage has been tainted with my infidelities. I just want to be open and honest. I was irresponsible. I was associated with a woman who I was involved with and had a relationship with. She asked for money. I felt as though I was being blackmailed or there was some sort of extortion. We're working on our marriage. We're working on repairing what has been damaged so badly."
A lot of male celebs' infidelities have been revealed this year, including Mark Owen's affairs, let's hope this is the end of this run of revelations.