Photos of 2010 London Marathon Celebrity Runners Natalie Imbruglia, Michelle Heaton, Sam Branson, Holly Branson
Celebrities Prepare For the London Marathon!
A whole host of celebrities who are running the 2010 London Marathon gathered at Tower Bridge for a photocall yesterday. Richard Branson's children Holly and Sam were joined by their Team Caterpillar pal and Princess Beatrice's boyfriend Dave Clark, plus fellow Virgin Unite fundraisers Michelle Heaton and Natalie Imbruglia, and marathon running expert Tegla Loroupe. See which other celebs are running the marathon and find out how Dick and Dom have prepared for the run in my exclusive interview with the TV presenting duo. You can even guess the previous London Marathon celeb runner in my quiz! Will you be watching tomorrow?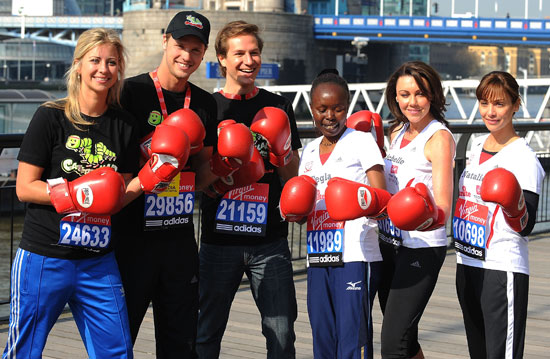 To see more pictures of the celebrity runners, just read more.
Images include: Natalie Imbruglia, Michelle Heaton, Sam Branson, Holly Branson, Dave Clark, Tegla Loroupe