Photos of Aaron Johnson in Harper's Bazaar UK Talking About his Engagement to Sam Taylor-Wood, Impending Fatherhood and Kick-Ass
Aaron Johnson Talks About Acting, His Engagement to Sam, and Fatherhood in Harper's Bazaar
Aaron Johnson is a teenage actor with a lot to be proud of — he has Nowhere Boy under his belt, and Kick-Ass on its way, plus he's starring opposite Carey Mulligan in The Greatest. His personal life has also hit the headlines recently, as he got engaged to director Sam Taylor-Wood — 23 years his senior — and the happy couple then announced they have a baby on the way! Aaron talked to Harper's Bazaar about his love for Sam, his excitement about having a family and his parents' views on their relationship — here's a few excerpts: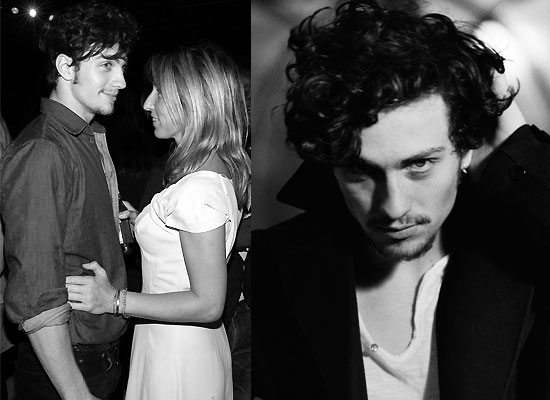 On upcoming fatherhood: "I've always been really up for a baby, I knew very early on — we were very much in love, and it was something that I wanted... It came from me, but maybe it took her to want me to want one. I wanted to be grounded, to surround our kids with love. I love the two girls [Sam's daughters], I love them to bits, I want the family, and I think that's what she's always wanted."
On Sam: "She's been such a soldier and a warrior through her life, she's strong in so many ways, but she needs someone to be there for her. I love her, I adore her, she's an incredible woman."
On his parents' views of his relationship with Sam: "The absolutely adore Sam — she's their daughter-in-law and they love her like a daughter. My dad keeps looking in shop windows for prams and buggies. He looks like Tony Soprano, but he's a sweetheart, my dad."
To see more photos of Aaron, read more excerpts, and hear what Anne-Marie Duff has to say about him, just read more.
On Sam's directing style: "She's the best director I've ever worked with — whatever journey I was going on in the film, she was on the same path. To have someone to guide you and stay with you is very rare. I think she was incredible — I've never felt anything like that, not at all."
Matthew Vaughn on casting him in Kick-Ass: "We thought he must be from the US, and I couldn't believe it when I found out he wasn't, because I'd vowed not to cast an English actor... He's remarkable — he was able to convey the naive optimism that we needed for an audience to believe in him."
Anne-Marie Duff on costar Aaron: "I remember being struck by how beyond his years he was, his maturity. When I think of what I was like at that age, I mean, it was actually a little bit unsettling."
Aaron on his future plans: "Having a baby. That's number one. Keep the family tight, that means more to me than anything, especially with a baby on the way."
You can read the full interview and article about Aaron in the new issue of Harper's Bazaar UK — out now!