Photos Of Adele and Katy Perry Partying In London Last Night, Plus McFly's Live Lounge Cover Of "I Kissed A Girl"
Adele's Attempted Souvenir Swipe At Katy's Party
Adele attempted to make off with a handful of Katy Perry balloons at the latter's post-gig party at Ruby Lounge in London last night. Sadly she didn't make it away with them, but she still seemed to have a good time anyway as she laughed with a friend. Meanwhile the woman of the evening Katy spent her time dancing round in her rose-printed tights and socialising following her concert at the Scala. Doesn't she look like Zooey Deschanel in these pictures?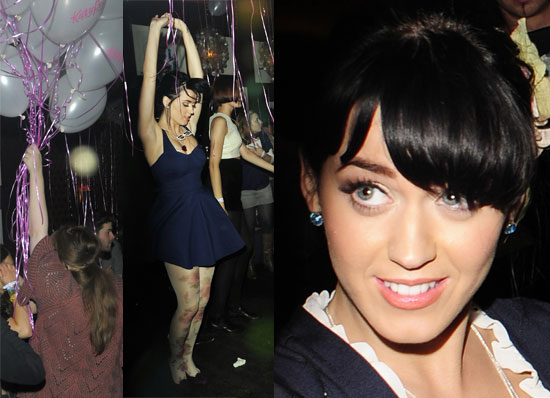 She's still mostly only known for that song which seems to divide people into those who love it and those who hate it. Following the intense airplay of the original I'm enjoying McFly and Travis's covers of the song. Watch McFly's under the cut.
To see more of the afterparty, plus McFly's fun Live Lounge cover of Katy's song just read more.