Photos Of Agyness Deyn, Dita Von Teese, Chloe Sevigny, Cat Deeley, Alex Greenwald, Kirsten Dunst, Kate Bosworth at Coachella
Agyness Makes A Pretty Coachella Pyramid With Pals
The Coachella Festival in California has been the place to be this weeked for star spotting and sun worshipping, as you saw in yesterday's gallery including Reese Witherspoon and Jake Gyllenhaal. Agyness Deyn has been continuing her fun in the sun with her buddies, creating a human pyramid with her man Alex Greenwald and buddies Remi Nicole, Nick Grimshaw and Henry Holland! Star of the new Gossip Girl spinoff Brittany Snow hung out with 90210 offscreen couple Jessica Stroup and Dustin Milligan, while Cat Deeley couldn't hide her smile hanging out with her man Jack Huston.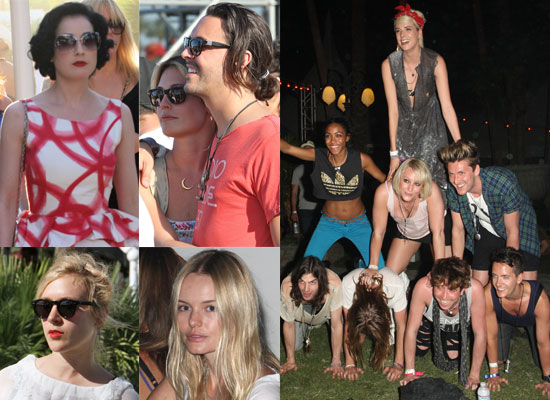 Elsewhere Zach Braff queued up for some food, while Jared Leto, Adrian Grenier, Kirsten Dunst, Chloe Sevigny and Dita Von Teese were all spotted around the site with friends. Check out the huge gallery of photos of all the stars below!
To see many more photos from the weekend at Coachella, just read more.