Photos Of Alexa Chung and Daisy Lowe Out In London Last Night, Daisy's New MTV Series, Alexa's Harper's Bazaar Cover
Alexa and Daisy 'Fess Up About Their Futures
Stylish twosome Alexa Chung and Daisy Lowe attended a launch party held by Daisy's mum Pearl in London last night. Daisy wore an attention-grabbing black and white dress masquerading as underwear under a pvc coat — she should start getting used to all eyes being on her as she's just landed her very own show for MTV. She said, "A lot of people don't understand who I am just looking at photos of me, but they'll get a better idea of what I'm about with this show." Meanwhile, Alexa's the current cover star of Harper's Bazaar — check out the beautiful image with FabUK — and had a couple of things to say about her future: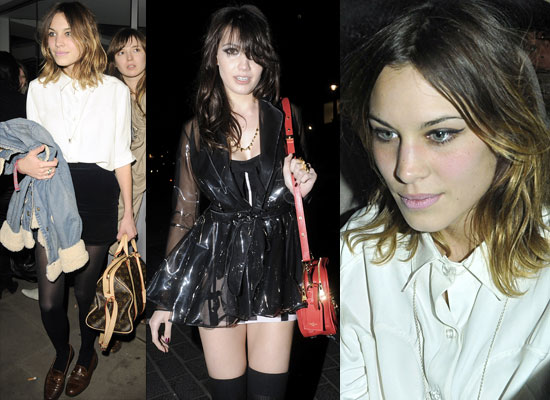 On where she'll be at thirty: 'I want to write columns and I want to have studied literature and just be really clever, have an excellent vocabulary and just be really eloquent. Alex and I often write down words we really like, and say, "Read this, it's amazing".
On not being ready for a baby: "Ew, no. I had a dream the other night that I had a baby and I called it Bud and I spent the whole dream pissed off that I'd called it Bud because I wanted to call it Wolfgang. You're going to hate what happens next – I washed it in the sink and it died. It was horrible. No, no thanks. No Buds anytime soon."
You can read the whole interview in this month's Harper's Bazaar.
To see more photos of Alexa and Daisy, just read more.