Photos of at Alexa Chung, Emma Watson, Freida Pinto, Victoria Beckham, Agyness Deyn at London Fashion Week Burberry Show
Burberry Brings Brit A-List Victoria, Alexa, Agy & Emma to LFW
Yesterday's Burberry show saw the most star-studded front row of London Fashion Week, with British stars like Victoria Beckham, Alexa Chung, Agyness Deyn, Emma Watson and Daisy Lowe rubbing shoulders with American fashionistas including Mary-Kate Olsen, Liv Tyler and Gwyneth Paltrow. Dev Patel and Freida Pinto were adorable holding hands next to Alexa, while Emma and Gwyneth had a laugh together. Victoria kept a serious face as she watched the show, and described the collection as "fantastic" and added that she'd "had a lot of fun".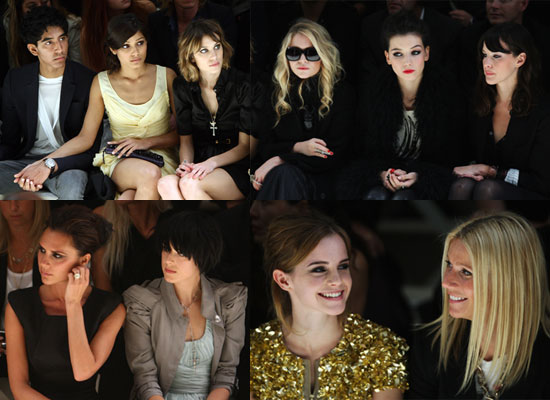 After the show the gang headed to the closing party, alongside Fashion Week fans Anna Wintour, Erin O'Connor, Donna Air, David Walliams, Trinny Woodall, Twiggy, Sarah Cameron, Sir Philip Green, Tamsin Egerton, Lady Victoria Hervey, Tara Palmer-Tomkinson and Jameela Jamil. The Kooks provided the music and Alexa and Agy turned DJs for the party. I love seeing Victoria, Alexa, Agy and Emma in their gorgeous outfits: what do you think of all the fashion choices? Stay tuned for more from the final day of LFW!
To see loads of pictures of all the stars on the front row and at the party, just read more.
Images include: Emma Watson, Victoria Beckham, Alexa Chung, Agyness Deyn, Mary-Kate Olsen, Freida Pinto, Dev Patel, Anna Wintour, Erin O'Connor, Donna Air, David Walliams, Trinny Woodall, Twiggy, Sarah Cameron, Sir Philip Green, Tamsin Egerton, Lady Victoria Hervey, Tara Palmer-Tomkinson, Jameela Jamil, Matthew Williamson, Mario Testino