Photos of Alice in Wonderland UK Royal Premiere with Johnny Depp, Anne Hathaway, Tim Burton, Helena Bonham Carter, Daisy Lowe
Stars Go Down the Rabbit Hole for Alice's Royal Premiere
The royal premiere of Alice in Wonderland took place last night in London's Leicester Square, where stars Johnny Depp, Anne Hathaway, Matt Lucas and Helena Bonham Carter signed autographs in the rain for the many waiting fans. Anne looked stunning in her shimmery gold dress, while the star of the movie Mia Wasikowska, who plays Alice, wore two dresses — one long sweeping gown on the red carpet, and a short black number once she was inside.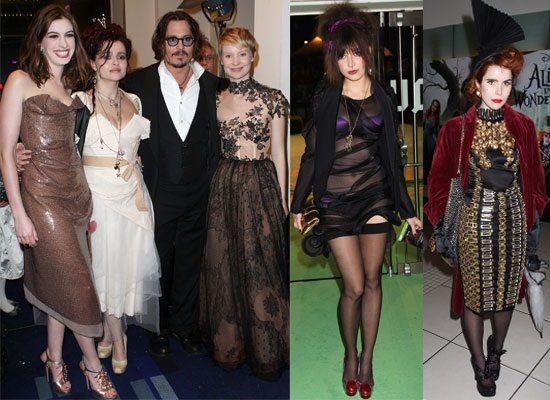 Michael Sheen, Alan Rickman and Christopher Lee voice characters in the movie and all attended last night, alongside Prince Charles and Camilla Parker Bowles. David Walliams and James Corden arrived together following their snog at Fashion for Relief, while Daisy Lowe wore a sheer black dress that showed off her purple underwear!
To see more photos from the Alice in Wonderland premiere, just read more.