Photos of All the Celebs at the 2010 BAFTA Awards Afterparties Including Bonnie Wright, Jamie Campbell Bower, Carey Mulligan
Funny Famous Faces Fill the BAFTA Awards Afterparties
The stars were in great spirits following the BAFTA awards last night, as they went for dinner at Grosvenor House Hotel and then partied at Soho House! The winners, including Carey Mulligan, Colin Firth and Kathryn Bigelow, posed with their awards, and Carey and Claire Danes were among the stars that stopped to sign autographs for the waiting fans outside. Bonnie Wright and Jamie Campbell Bower had a fun time, playing games and making faces as they sipped on their drinks, Aaron Johnson was amusingly protective over his fiancee Sam Taylor-Wood's baby bump, and Gabourey Sidibe got a warm hug from Jeremy Renner.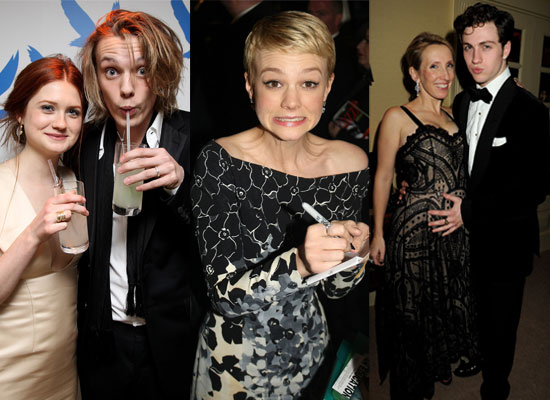 Anna Kendrick, Saoirse Ronan and Audrey Tautou looked cute as they posed for photos, while Robert Pattinson and Kristen Stewart left the party together! Other guests included James Corden, George Lamb, Tom Ford, Tahar Rahim and Nicholas Hoult, while Little Boots and The Saturdays performed.
To see more photos from the BAFTA afterparties, just read more.
Images include: Carey Mulligan, Reena Hammer, Jonathan Rhys Meyers, George Lamb, Tom Ford, Trudie Styler, Tahar Rahim, Claire Danes, Kathryn Bigelow, James Corden, Rebecca Hall, Mickey Rourke, Kate Winslet, Vera Farmiga, Jonathan Ross, Jane Goldman, Gabourey Sidibe, Kristin Scott Thomas, Vanessa Redgrave, Nicholas Hoult, Colin Firth, Claudia Winkleman, Guy Pearce, Matthew Goode, Jason Isaacs, Sam Taylor-Wood, Aaron Johnson, Dustin Hoffman, Cilla Black, Erin O'Connor, Matt Dillon, David Baddiel, John Landau, James Cameron, Christoph Waltz, Jamie Campbell Bower, Bonnie Wright, Audrey Tautou, Anna Kendrick, Ozwald Boateng, Lee Daniels, Edith Bowman, Jeremy Renner, Little Boots, Anne-Marie Duff, Claire Danes, Jaime Winstone, Saoirse Ronan, Nigel Lythgoe, Olivia Williams, Tamsin Egerton.