Photos Of All The Men From 2009 Golden Globe Awards Featuring Brad Pitt, Dev Patel, Jesse Spencer, Hugh Laurie, Dominic Cooper
Groomed And Gorgeous Guys at The Golden Globes!
All of the best men from all the TV shows and movies that we've loved this past year showed up on the red carpet at last night's Golden Globe awards. Newly loved up Dominic Cooper looked dashing, though he didn't pose for photos with his girlfriend Amanda Seyfried, Aaron Eckhart looked handsome as usual, and Jonathan Rhys Meyers added a waistcoat to his ensemble. House himself Hugh Laurie made some faces as he posed for photos, and his costar Jesse Spencer looked rather gorgeous as he entered the ceremony. I love seeing ex-soap stars at these big Hollywood awards ceremonies — last night's red carpet held Jesse from Neighbours, plus Isla Fisher and Melissa George from Home and Away — don't you?!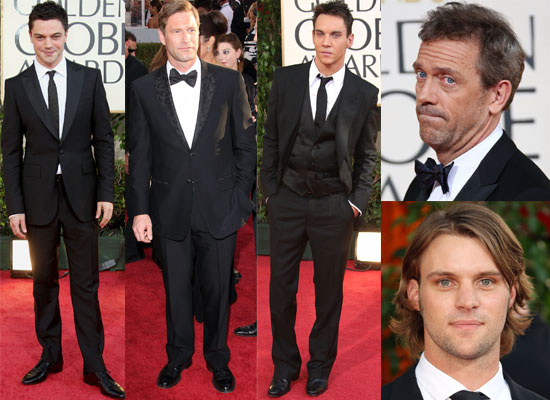 Mickey Rourke had a different take on the suit compared to most of the men there, while Brad Pitt, Dev Patel, Ricky Gervais and Colin Farrell kept it classic. Seth Rogen went with a white tie, Gerard Butler wore a bow tie, and Tom Cruise, Neil Patrick Harris, Zac Efron and Patrick Dempsey went for regular smart black ties.
To see many, many, more photos of the men at the Golden Globes, just read more
Even more Golden Globes coverage over at InStyle UK!