Photos of All the Women on the BAFTAs 2010 Red Carpet Featuring Kate Winslet, Kristen Stewart, Anna Kendrick, Claire Danes 2010-02-21 13:08:29
Beautiful Women Brave the Cold For BAFTAs Red Carpet
Lots of big stars walked the red carpet outside the Royal Opera House in London this evening for the BAFTAs. Fabulous females chose suitably glamorous gowns, from Orange Rising Star nominee Kristen Stewart's short white number to presenters Claire Danes' fabulous full-length silver dress and Kate Winslet long black creation. BAFTA Fellowship recipient Vanessa Redgrave looked wonderful alongside her daughter Joely Richardson.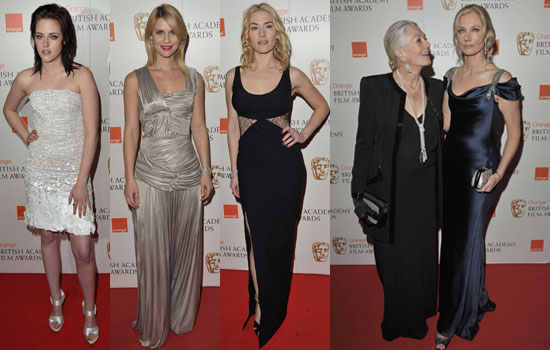 Bonnie Wright was one of many women wearing neutral colours, as was Jaime Winstone, who looked glam with her 1950s' makeup and hair. Pregnant Anne-Marie Duff matched her dress and lipstick to the red carpet, while nominees Carey Mulligan and Anna Kendrick dazzled. Make sure you vote on FabUK and BellaUK's polls, and stay tuned for loads more pictures!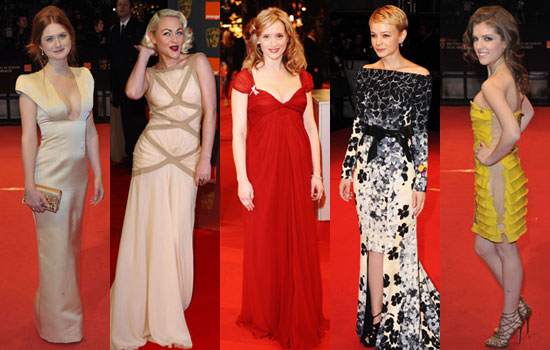 To see LOADS more pictures of all the female stars, including Rebecca Hall, Jane Goldman, Olivia Williams, Gabourey Sidibe, Vera Farmiga, Saoirse Ronan, Lauren Laverne, Erin O'Connor, Claudia Winkleman, Trudi Styler, Kimberley Walsh, Kristin Scott Thomas, Edith Bowman, Audrey Tautou, Olivia Grant, Tamsin Egerton and Romola Garai, just read more.
Images include: Claire Danes, Kate Winslet, Carey Mulligan, Kristen Stewart, Vanessa Williams, Joely Richardson, Anne-Marie Duff, Anna Kendrick, Jaime Winstone, Bonnie Wright, Sophie Dymoke, Tamsin Egerton, Rebecca Hall, Jane Goldman, Olivia Williams, Gabourey Sidibe, Vera Farmiga, Saoirse Ronan, Lauren Laverne, Erin O'Connor, Claudia Winkleman, Trudi Styler, Kathryn Bigelow, Kimberley Walsh, Kristin Scott Thomas, Edith Bowman, Audrey Tautou, Olivia Grant, Romola Garai, Jodie Whitaker