Photos of Amy Winehouse With Beehive Going to a Recording Studio
Amy's Back to the Beehive, Studio and Ranting About X Factor
After debuting her new perm at the end of last week, which the majority of you did not like, Amy Winehouse has gone back to the beehive. BellaUK wants to know: which hairstyle do you prefer? Following a day out in London in skinnies and trainers yesterday, Amy changed into her trusty ballet pumps and hair scarf, grabbed a guitar, and headed off to a recording studio in the evening. Music is certainly on Amy's mind as, like Lily Allen, she's been ranting about The X Factor, in particular the judges, launching into a tirade of abuse when a fan rang her doorbell. Here's highlights: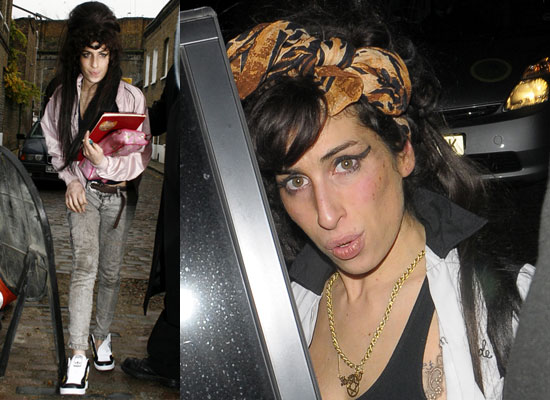 On Simon Cowell: "Let me say one thing that is pertinent and I won't swear on it either. It's got nothing to do with Simon Cowell, although everything that's wrong in the world probably does. I mean he's the reason that all them hairdressers haven't taken their pictures out of the window since the Sixties."
On Louis Walsh: "What's the s**t that Louis the fool comes out with? I don't know why, I don't like your hair, something was missing tonight, I don't know what it was. You don't know s**t. You know what was missing tonight? Your f*****g-do you know what was missing tonight-your personality, Louis. It's just a shame."
To see what Amy said about Cheryl, Dannii and Diana, read more.
On Cheryl Cole [in a north-east accent]: "I love Cheryl, I love Cheryl. She fancies me I'm telling you."
On Dannii Minogue: "Dannii always has to stand up, she always has to stand up. You ever noticed that?"
On Diana Vickers: "You know the first time I saw her I thought it was like a half-time show and Avid Merrion was doing it and I thought it was a joke."
The X Factor certainly seems to be causing a stir this year, right?