Photos of Amy Winehouse and Lily Allen at 2009 Q Awards, Full Winners List Q Awards 2009
Lily and Music Legends Honoured at Q Awards
Music stars gathered at London's Grosvenor House this afternoon for the Q Awards. Lily Allen was back in the UK after her Amsterdam gig to pick up Best Track for "The Fear" and she posed with Q Icon Marianne Faithfull. Kasabian picked up Best Album and Sophie Ellis-Bextor joined Holly Johnson to celebrate Frankie Goes To Hollywood's Classic Song win for "Relax". Other older musicians were also recognised, with Spandau Ballet named Q Idol.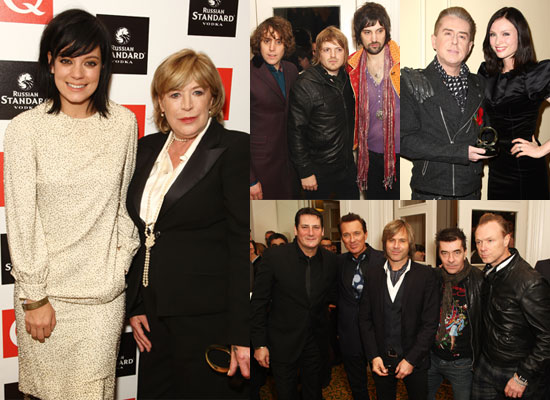 Amy Winehouse showed off her new assets with Goddaughter Dionne Bromfield, and Fearne Cotton, Stereophonics' Kelly Jones and Pixie Lott were amongst the other stars who attended the ceremony, hosted by Al Murray. Winners who collected their awards included Muse, Robert Plant, Yusuf Islam and Sonic Youth. Lady GaGa wasn't there to pick up her Best Video Award, and U2 didn't travel after their California concert to collect their Q Classic Album gong. Remember to vote on FabUK and BellaUK's love it or hate it polls!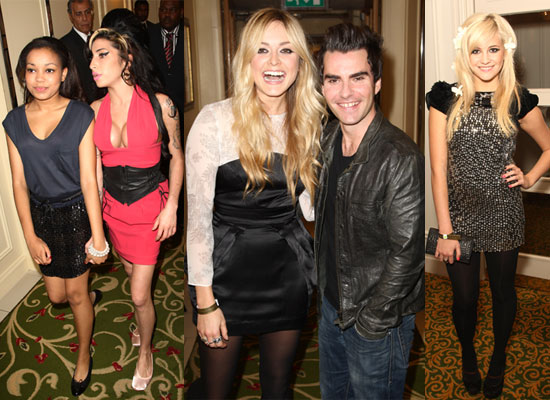 To see more pictures from the ceremony, including Muse, Al Murray, Robert Plant, Yusuf Islam, Sonic Youth, Mr Hudson, Gary Numan, Noisettes, Corinne Bailey Ray, Richard Jones, James Blunt, Jarvis Cocker, Justin Lee Collins and Terry Hall, just read more.
Best new act: White Lies
Breakthrough artist: Mr Hudson
Best video: "Just Dance", Lady GaGa
The Q idol: Spandau Ballet
The Q inspiration award: The Specials
Innovation in sound: Sonic Youth
Q classic album: The Unforgettable Fire, U2
Best track: "The Fear", Lily Allen
The Q icon: Marianne Faithfull
Classic song: "Relax", Frankie Goes To Hollywood
Q legend: Edwyn Collins
Best live act: Arctic Monkeys
Classic songwriter: Yusuf Islam (formerly Cat Stevens)
Outstanding contribution to music: Robert Plant
Best album: West Ryder Pauper Lunatic Asylum, Kasabian
Best act in the world today: Muse
Images include: Amy Winehouse, Sophie Ellis-Bextor, Lily Allen, Fearne Cotton, Muse, Kelly Jones, Spandau Ballet, Pixie Lott, Dionne Bromfield, Yusuf Islam, Sonic Youth, Marianne Faithfull, Holly Johnson, Frankie Goes to Hollywood, Kasabian, Mr Hudson, Gary Numan, Noisettes, Corinne Bailey Ray, Richard Jones, James Blunt, Al Murray, Jarvis Cocker, Robert Plant, Justin Lee Collins, Terry Hall, The Specials