Photos of Amy Winehouse With New Plumped Up Lips, Amy Winehouse Surgery Pictures, Amy Winehouse Big Lip Enhancement
Amy Looks Like She's Added Fuller Lips and Freckles
Hot on the heels of her recent breast augmentation, Amy Winehouse showed off what appears to be a fuller pout as she left a clinic in London yesterday. BellaUK wants to know: what do you think of her freckles and plump pout? She looks happy to flaunt her new assets and we know her dad Mitch thinks her new boobs are great. Mitch has revealed that Amy loves to play games like Pictionary and Boggle, and he's also spoken on his new series for Living about Amy's shock at Rachel Adedeji's exit from The X Factor last weekend, saying: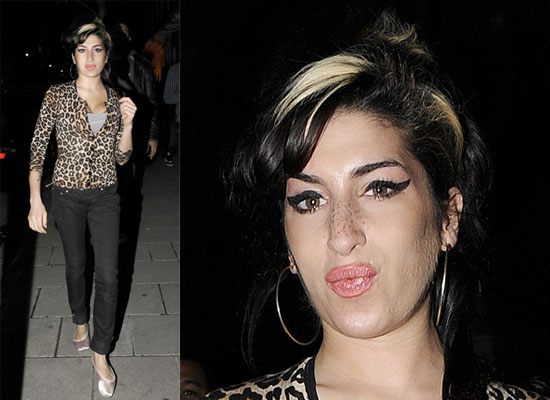 "Amy and I and the family were watching X Factor and when Rachel got knocked out – we thought it was a complete disaster. We were having a lovely dinner – I was having a chicken vindaloo and Amy was having a chicken Korma and we almost choked – almost put us right off our food. Almost but not quite…"
What do you think of Amy's changing face and figure?
To see more pictures of Amy and her new lips, just read more.