Photos of Amy Winehouse With Scalds on Leg in St Lucia
Amy Winehouse Soldiers On After Scalding Her Leg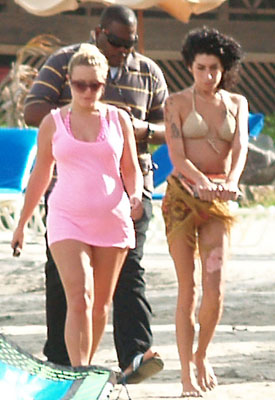 Amy Winehouse took a stroll on a beach in St Lucia yesterday, her bare legs showing the scald on her thigh. The singer burnt her leg when she was cooking pasta for friends and the pot tipped over, pouring boiling water over her. Fortunately Amy isn't suffering too much, as her spokesman Kirk Sommer said: "She's not in a lot of pain, she's just letting it breathe".
After news of Blake's baby, various rumours about Amy's personal life continue, including reports she is enjoying a holiday romance with a waiter. Suggestions that Amy wants to adopt a child from St Lucia have been explained by her spokesman, who said: "Amy was talking about adopting in the context of looking after children on the island, perhaps through some kind of music and education-based project".
Fortunately it sounds like Amy's creativity is coming back, as she has reportedly been inspired by Pete Doherty to write a book of poetry as practice for the children's book she wants to write. Hopefully it will help take her mind off her injury. Get well soon Amy.