Photos of Amy Winehouse Wearing an Engagement Ring Sparking Rumours She is Set to Remarry Blake Fielder-Civil
Amy Winehouse Is Wearing a Ring on Her Engagement Finger
We've been hearing rumours about Amy Winehouse and Blake Fielder-Civil getting back together, and now Amy has got tongues wagging even more by wearing a ring on her engagement finger as she left a clinic in London today. Just last month she wore a shirt embroidered with Blake's Girl, and reports suggested the former couple had been sending each other love messages on Facebook, following Amy's dad Mitch allegedly finding the pair in bed together. They were granted a divorce back in July, but reports today claim that Amy apparently proposed to Blake, and he reportedly told friends: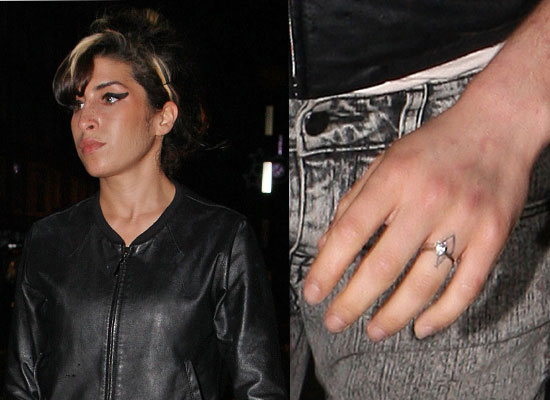 "We both know we've only ever been divorced on paper. This is the right thing to do. She is wearing the engagement ring I gave her the first time round. I think it cost £2,000 from Tiffany. We've been talking five or six times a day. We changed our status to married on Facebook a couple of weeks back but that was more of a laugh. This is the real deal. She told me she wanted to get married again. I feel so happy."
Do you think Amy and Blake will get remarried?