Photos of Ashley Greene in LA
Ashley Greene Gets Excited For Eclipse Before Carving Butter
Ashley Greene was full of smiles as she shopped with a pal at Ralph's supermarket in Los Angeles on Saturday. The Twilight actress has been busy filming The Apparition in LA with Sebastian Stan, and her latest project has just been announced. She will star as a rebellious high school teen alongside Jennifer Garner and Ty Burrell in Butter, a comedy about a butter-carving contest. Ashley's still keeping some of her attention on Eclipse, however, and she recently saw some footage from the film which got her really excited. She said: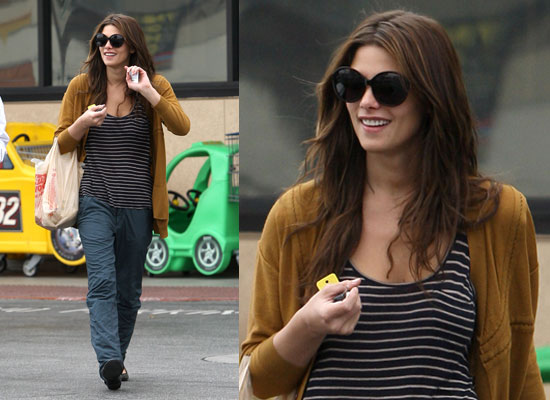 "I got to see a lot of footage from it. And it looks really amazing. For one, the werewolves just look incredible in this one. They looked good in the last one, but of course we're always trying to outdo ourselves, and so they look really incredible. Then, the whole fight sequence that I've seen really looks amazing. We worked our tails off for it. I definitely think there is one scene in particular between Jackson [Rathbone]'s character Jasper and my character Alice that I think everyone is going to like. I don't think anyone will be disappointed."
Do Ashley's sneak peeks make you even more excited for Eclipse?