Photos of Ashley Greene, Rachel Bilson, Olivia Wilde and Others at Diamond Awards Season Fashion Preview
Ashley Spills on Her Mini-Breakdown While the Girls Gather
Ashley Greene looked pretty in pale yellow at an awards season fashion preview hosted by InStyle in LA yesterday. The girls were out in force for the event, and Rachel Bilson, her old The OC costar Olivia Wilde, Minka Kelly, Glee's Dianna Agron and Jessalyn Gilsig were among the guests. Ashley has been speaking about the success she's experienced since Twilight was first released, and how she's been dealing with it, saying: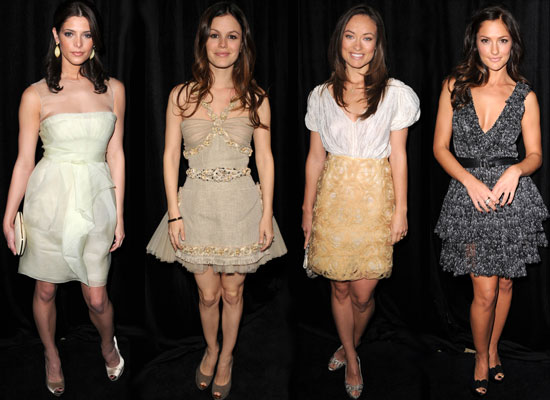 "There was a moment in time where I was kind of having this mini-breakdown because it was all very new, and it was all being thrown at me really quickly, and I was going, "Why are people reporting on this? Why do people care what I'm wearing or what I'm eating, and why are people looking down on me because I'm not wearing high heels?" That's the downside to being in the public eye. When girls come up and say, "You're my role model," it's really flattering, but it's also really scary because I'm not perfect and I'm going to make mistakes. I've just decided that I have to continue to live my life and do what I do. Hopefully, people love me because of who I am, not who I pretend to be."
Luckily, after all her success it sounds like she has a good head on her shoulders!
To see more photos from the fashion show, just read more.