Photos of BAFTA LA Britannia Awards Including Dev Patel, Freida Pinto, Emily Blunt, Colin Firth, Robert De Niro, Claire Danes
Brits and Americans Honoured at BAFTA LA Britannia Awards
Several Brits were honoured at the BAFTA/LA Britannia Awards in California last night. Actors who received awards included Colin Firth, who picked up the Humanitarian Award, and Emily Blunt who was named British Artist Of The Year. Robert De Niro received the Stanley Kubrick Award for Excellence In Film, Kirk Douglas was awarded for his Worldwide Contribution To Filmed Entertainment and Danny Boyle received Artistic Excellence In Directing. Danny was joined by his Slumdog Millionaire stars Dev Patel, Freida Pinto and Anil Kapoor.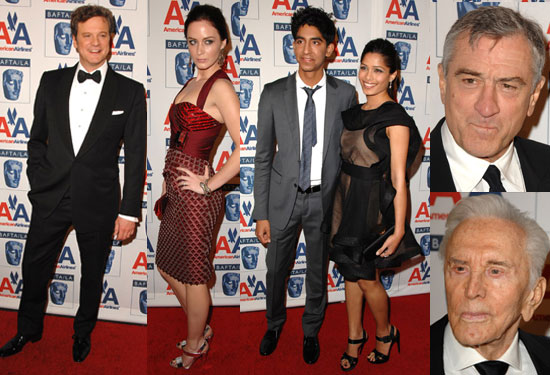 Other stars at the ceremony included Claire Danes, Minnie Driver, Lucy Davis and Stephen Fry, who hosted the ceremony and said: "(In London) as the evening progresses, a larger and larger percentage of the audience gets really annoyed, by the end of the evening three quarters of the entire room are angry because they got passed over for an award. The beauty of the Britannias is that everyone knows who has won, five winners — and it's short."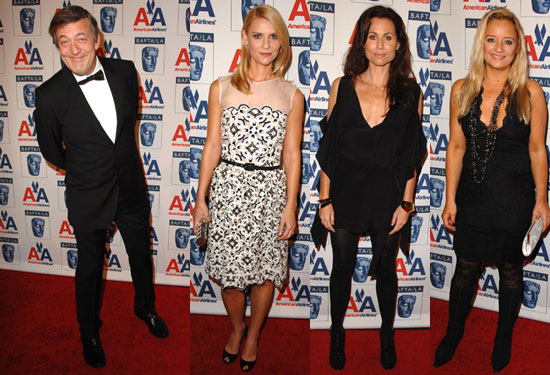 To see more pictures of all the stars, including Lady Victoria Hervey, Danny Boyle, Benicio Del Toro, Anil Kapoor and Amy Adams, just read more.
Images include: Dev Patel, Minnie Driver, Robert De Niro, Stephen Fry, Lady Victoria Hervey, Kirk Douglas, Freida Pinto, Emily Blunt, Danny Boyle, Colin Firth, Claire Danes, Benicio Del Toro, Anil Kapoor, Lucy Davis, Amy Adams