Photos of Ben Stiller, Jada Pinkett Smith and Chris Rock at the London UK Madagascar: Escape 2 Africa movie premiere
Ben, Jada and Chris Escape To London
Ben Stiller, Jada Pinkett-Smith and Chris Rock were out in force on a rainy red carpet last night in London's Leicester Square for the Madagascar: Escape 2 Africa premiere! The three big Hollywood stars mixed in with their animal characters' on the red carpet as well as a flurry of British celebs and their children including lovely Richard Hammond who arrived with his wife and children. Ben had this to say on the red carpet: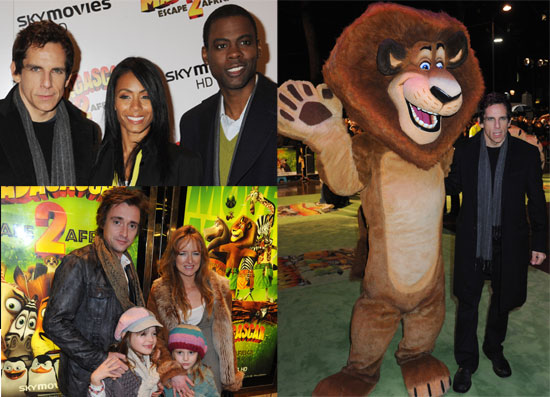 "It was fun. The first time around was sort of an exploration. Doing an animated movie for the first time was a bit of a process so this time around it was fun because we had seen the first movie, we could visualise what it was going to look like. It was really fun because Chris is so good and to see him improvise, it was very inspiring. A little bit intimidating because he comes up with funny lines. His ratio of funny lines he comes up with is much more than mine."
Check it out for yourself when it opens on December 5!