Photos of Billie Piper Filming Secret Diary of a Call Girl Series 3
Billie Films Secret Diary and Prepares to Meet the Real Belle
Billie Piper looked gorgeous as she filmed scenes for the third series of Secret Diary of a Call Girl in a white dress, black boots and fur stole in London yesterday. The cold snow-flecked streets were a far cry from the sunny April days when we last saw Billie filming the next series of the hit show. Billie is also going to meet the inspiration for the series, Dr Brooke Magnanti, who recently revealed herself as the real-life Belle de Jour. Their meeting will be filmed for an ITV2 show called Billie And The Call Girl Bare All, and Billie is excited about it, saying: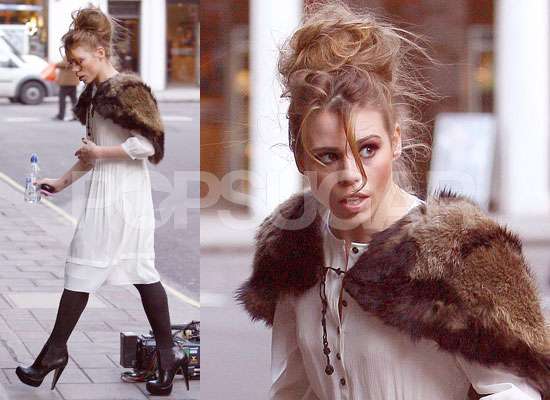 "I have always been fascinated by the real Belle de Jour and I read everything about Brooke when she decided to 'come out'. It will be so interesting to meet her. I think everyone's fascinated to a certain degree about prostitution."
Will you tune in to the new series next month and the one-off special?